grouper-dev - [grouper-dev] RE: Another stab at the left column
Subject: Grouper Developers Forum
List archive
From: Chris Hyzer <>
To: Michael Girgis <>, "<> Dev" <>
Subject: [grouper-dev] RE: Another stab at the left column
Date: Wed, 19 Dec 2012 20:16:15 +0000
Accept-language: en-US
---
Yeah, we should probably keep things simple at first, and we can add in explorer filters in later on once we are settled with other stuff.
Windows explorer has a similar grid for search results, and make a separate column for folder path, something to consider…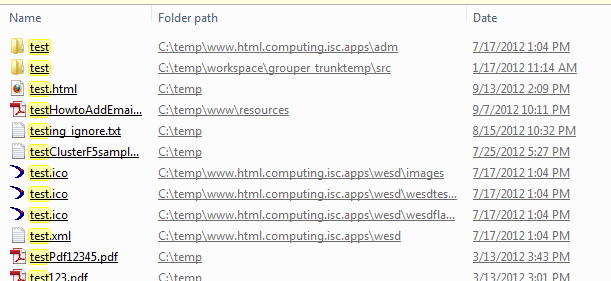 Also, we use colon as a separator, which might not be the first choice, but might be confusing if it is displayed as a slash in certain places.
If we don't like colon, we could use images… unless that is bad for accessibility etc

Thanks,
Chris
From: [mailto:] On Behalf Of Michael Girgis
Sent: Wednesday, December 19, 2012 2:31 PM
To: <> Dev
Subject: [grouper-dev] Another stab at the left column
Thanks for all the feedback today on the UI wireframes. Extremely helpful. Just after the call, I had an idea for an even simpler version of the left column. This one eliminates the need for a "Filter" or "Show" dropdown, and allows the Explore Tree to serve a single purpose - browsing the entire folder structure.
In this version, a "My Groups" quick link takes the user to a separate screen with two tabs for both "Groups I Can Manage" and "My Memberships", both of which were previously filters. Favorites and My Services would have similar behavior. What I like about this version is the very prominent link to "My Groups," which I think will be appreciated by novice users. This approach also allows for more room to clearly display the full path to each of the listed Groups.
Unless I hear strong opposition, I think I'll try testing with this approach.
---
---
Archive powered by MHonArc 2.6.16.