grouper-users - [grouper-users] Double memberships in one group
Subject: Grouper Users - Open Discussion List
List archive
From: "Crawford, Jeffrey" <>
To: Grouper Users <>
Subject: [grouper-users] Double memberships in one group
Date: Thu, 19 Sep 2019 20:54:39 +0000
Arc-authentication-results: i=1; mx.microsoft.com 1; spf=pass smtp.mailfrom=it.ucla.edu; dmarc=pass action=none header.from=it.ucla.edu; dkim=pass header.d=it.ucla.edu; arc=none
Arc-message-signature: i=1; a=rsa-sha256; c=relaxed/relaxed; d=microsoft.com; s=arcselector9901; h=From:Date:Subject:Message-ID:Content-Type:MIME-Version:X-MS-Exchange-SenderADCheck; bh=qCwx9i1V0IjBzOoOgVWajlMD2o8kXinFVhaXfHZtrMM=; b=Vrpao+H8jo/awWrVxNxkfMevpm+Ih2q9J47N6VS1d7XZoWOX24IpE84aWJD0SSmzX0uMzdmiQ/5gzLGXD/tX7QwWjTSOCUmlccL9l9EEjlmmKyLiQKFI1T6l9ToaZQWqK1JtFo+aBLImRfdzqICHYkzVi/dRf3QQRZHZpSyrieGxOkj6Edxaog9UWw4OAndgkjmXJUtB05Wa/7Z4rxMfhUf4Y7f0xbPM57NrNt9n0YHPGdABFEKCQFVzJjyAoxhYVARHa51eJU6YKUYPxb/VttGIk+Bxc5KYw/mUFppAtZvfSbX1OnDCPQSPGUHahyebNV8NkSCY0uLDFN+HnlX8pA==
Arc-seal: i=1; a=rsa-sha256; s=arcselector9901; d=microsoft.com; cv=none; b=N+OEDCd/AfQdv1p217+ujn09gdgqqREC3eE3fFSe9eSd63MsPUFtQ+3CN/fymYOIhGIn+EJzlj6Yd0C27fa+Z98+8JhJm5YpzRRFWQJVsVwe9AVaH3HSiOc3g2WZS06oIuHGDs9YbgpXwEGKwlQwNScA+AnwUBHGZqDRP6m3m851Mtol2dnZntTmlDeEsQZUaK1sxJNjKh+4vaK6pfXrOTnrq0qg6CGKYZd06z88mn5RkHUUlB8Ngf2FUddCaGQdfxoTBHjfkuJNEN2JV64/YvFJLbQ7a1I4zBwNyqbLc1I/xvx8LuKtVC6d6k2MN7WtMPbvfkxUhjjOCRiMMEsQzA==
---
This is an odd one and I can't figure out how to deal with it. We had a loader job say that it deleted all members and added them back, and when we look at the group in question. All the members are in there twice (I didn't even think that was possible) How does that get fixed? And will removing the duplicate cause them to go into the changelog and remove the group memberships in the LDAP instance because there was one removal?: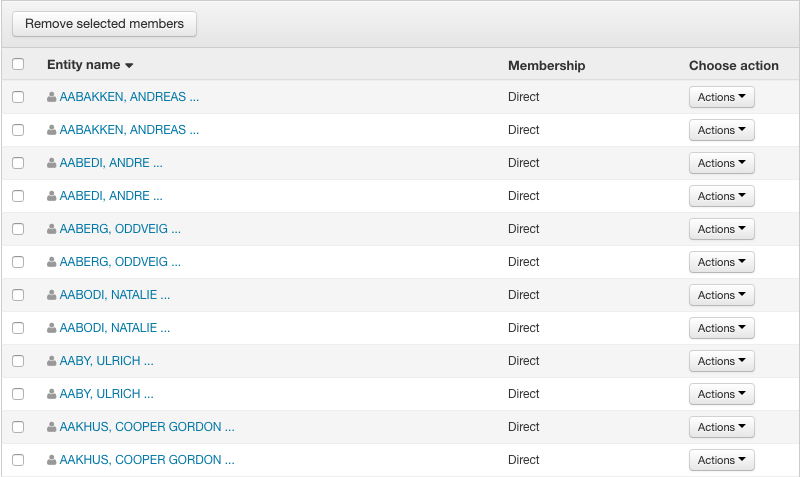 Thanks
Jeffrey C.
---
[grouper-users] Double memberships in one group, Crawford, Jeffrey, 09/19/2019
---
Archive powered by MHonArc 2.6.19.