grouper-users - Re: [grouper-users] Double memberships in one group
Subject: Grouper Users - Open Discussion List
List archive
From: "Crawford, Jeffrey" <>
To: Grouper Users <>
Subject: Re: [grouper-users] Double memberships in one group
Date: Thu, 19 Sep 2019 22:00:30 +0000
Arc-authentication-results: i=1; mx.microsoft.com 1; spf=pass smtp.mailfrom=it.ucla.edu; dmarc=pass action=none header.from=it.ucla.edu; dkim=pass header.d=it.ucla.edu; arc=none
Arc-message-signature: i=1; a=rsa-sha256; c=relaxed/relaxed; d=microsoft.com; s=arcselector9901; h=From:Date:Subject:Message-ID:Content-Type:MIME-Version:X-MS-Exchange-SenderADCheck; bh=OjDQild5dOoDJWwLK2bJzSOndF5njbZjIgt+FvhcCqU=; b=Vc4NIC79DjJVNBMeq4UVYPtgUetWdvinjQza+97nNrZeUM+TMCM7xg7eAgSiZbI8mFIeYRpYl60F3zG8Zfo/YbZw5bn7hov6k6A1i5/kzahp84bQi9v2DyrKldH1V/W5l0jW9d/a4ilaTvFs7ktywdrNy+AeREqzUvqxzBB2L2gw+7sPjkBysBtkJGwYaOmmn9V7tJkTsGaYpp4cygfxWTIRfcj6bCYGJLMXQXDFKJ1ancto7/15K1rCKsol0jhso+eIN6CNRCVcUu7YdHnlKclzH1BvkE2OMS6w1oGL4slZwvj3esg4cqKRH9CMTOvYDA6JIHB71ZE8D0kM8DjyYw==
Arc-seal: i=1; a=rsa-sha256; s=arcselector9901; d=microsoft.com; cv=none; b=P8dk7rWlqPdL8ShkUVS3XVdAnM28JcF4AjjOFSJCDlTNVMexLJIe9qKdRZC+687HfDnUZ+6wrHyhJyuvREOR7t9j54xDrqi95ohKoGc9TU+gm72FWVYRFh518WkQ6xxBj0p4J4DRY7N43ybrfl+K/PObkwCoNrbbfG2N94z3aWTo6kYysy9nOOkyOVd7JxJDiR2ziF/DyYNR/nlSzL/62xP9HpCR6h1n7WUfzVE2ChnVn8IYznYn42rzU3x9+9YGJ3Gcp8Ei+1RDtXDYp3kndvVu22nF1ypukSkuKB2nGJ6lmO3PDIg9ljQM6+eBBOG0rARSYuUpBmpESeT41mIong==
---
Update,
This may have been self imposed, I had this setting misspelled, so I corrected it, but it looks like our memberships which have HEX values in them are now saving a capital version of the name and a lower case version of the name. We need to know how to fix and if it would be better to go back to the original capital based or go forward with lower case
subjectApi.source.ldap.param.SubjectID_formatToLowerCase.value = true
From: <> on behalf of "Crawford, Jeffrey" <>
Reply-To: "Crawford, Jeffrey" <>
Date: Thursday, September 19, 2019 at 1:55 PM
To: Grouper Users <>
Subject: [grouper-users] Double memberships in one group
This is an odd one and I can't figure out how to deal with it. We had a loader job say that it deleted all members and added them back, and when we look at the group in question. All the members are in there twice (I didn't even think that was possible) How does that get fixed? And will removing the duplicate cause them to go into the changelog and remove the group memberships in the LDAP instance because there was one removal?: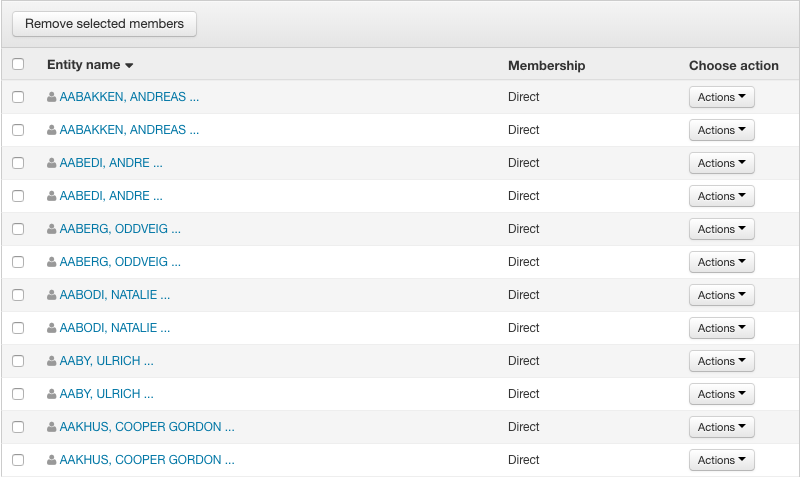 Thanks
Jeffrey C.
Attachment: 01_59_19.jpg
Description: 01_59_19.jpg
---
---
Archive powered by MHonArc 2.6.19.