grouper-users - RE: [grouper-users] grouper ui visualization patches!
Subject: Grouper Users - Open Discussion List
List archive
From: "Hyzer, Chris" <>
To: " Mailing List" <>
Subject: RE: [grouper-users] grouper ui visualization patches!
Date: Fri, 22 Mar 2019 03:23:11 +0000
---
Here is a real world example… I was asked to explain an app policy for being able to log in… I included a marked up version below which might spark some ideas/conversation? 😊
I pulled up the visualization. This is not a complex policy, but seeing the picture helped a lot.
From left to right…


Three affiliation groups and the loader employeeActiveFullTimePartTime are *basis* groups. The affiliationConfig has the loader settings for affiliations. The numbers are the sizes of memberships.
Those roll up in the employeeOrContractor *ref*erence group of size 45k.
The atlasProdLoader loads accounts from the application (which are created manually ad hoc).
Those two groups are intersected (blue lines) into atlasProdActive (has an account, and still works at penn). 729 people.
That is a member of the *policy* group atlasProdCanLogin (along with two others 732-729-1 (group membership). Which means 732 entities can login (its actually less if you look at people with netIds, some groups in there)
That group is in the shib entitlement and is filtered in apache
Summary, no one without an account or who doesn't work at penn can access the app. The entire app is reverse proxied from apache which is entirely protected by shib so unauthorized entities also cant try to hack at the underlying server either.
I think this pic describes the policy so I am very happy with it… keep reading below…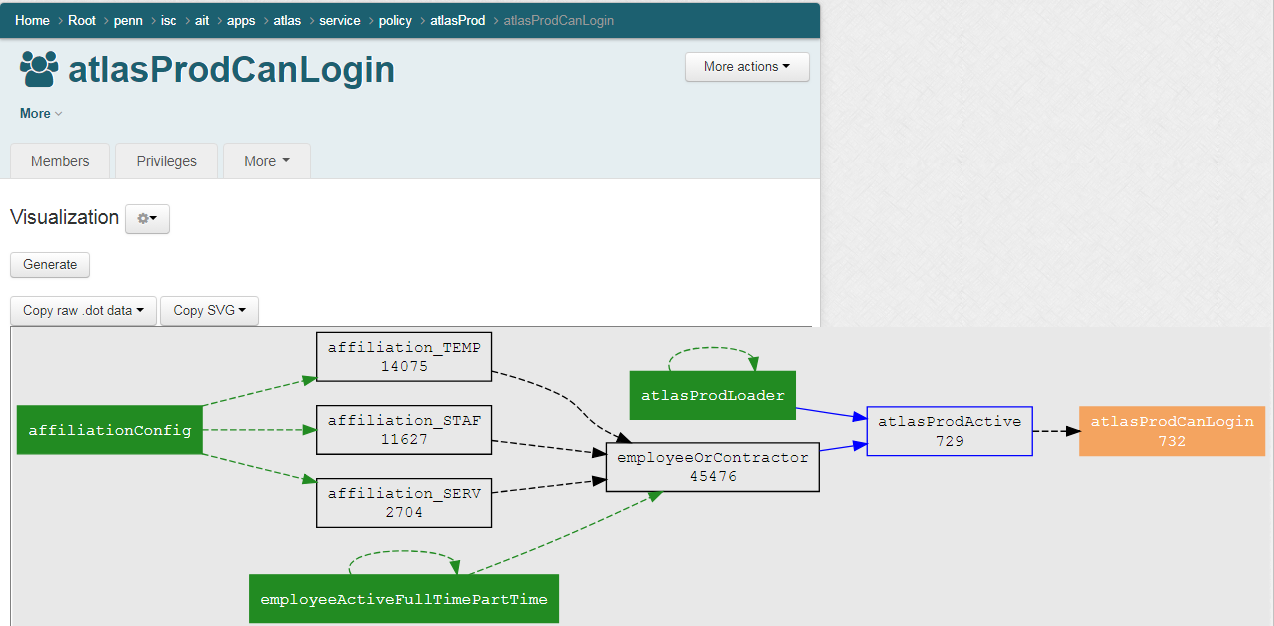 I have to start off by saying I feel guilty having suggestions here since it is already so great. But… cant help it 😊
I marked up this view with some ideas. Note, if there is too much going on, things can be toggled in the preferences… Also note: I didn't have space to fit things in, so imagine better spacing, and consistent fonts etc… and yes, I changed the numbers a tad, not important…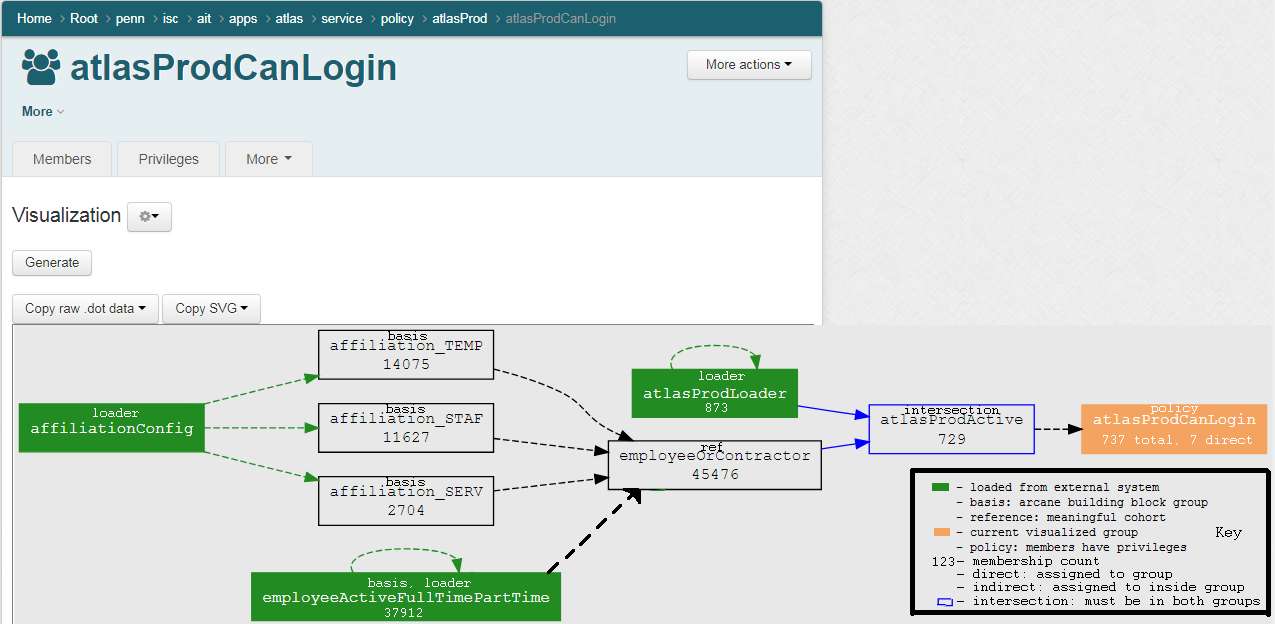 And so you don't have to play the game where you have to see whats different:
a loader group as a member should be a black line (right?) green line means loader control?
simple (non-listOfGroups) loaded groups should show membership count
label loader groups
label ref, basis, policy
label composites
maybe policy has a total and direct count? Or all groups if that option selected? I included on policy so you can see it's the atlasProdActive and an includes list… best practice probably says have another group for that but sometimes people reduce group counts…
Maybe show subject counts of non groups only? Maybe this deserves more discussion, but I think non-groups are generally what is cared about
Relevant key to diagram which includes explaining colors, labels, etc. If a color isn't used, don't have it explained obviously…
Thoughts? 😊
Thanks,
Chris
From: Hyzer, Chris
Sent: Saturday, February 16, 2019 5:48 PM
To: Mailing List <>
Cc:
Subject: grouper ui visualization patches!
The whole Grouper team has been releasing a lot of compelling patches lately, but this one is particularly exciting.
Michael Gettes and Nick Ivanov had the simultaneous independent idea for this, and each implemented a proof of concept. Grouper developer Chad Redman took what they did (parts of each POC) and added a lot of features, and incorporated this into Grouper. Thanks to all three of you!
In the latest Grouper patches, and soon to be a grouper package, you can see graphically how a Group, Folder, or Entity is used in grouper. This will show end users how a group is constructed (e.g. the policy), where a groups is used (e.g. if changes are needed), or how a folder is organized (we know it can get confusing).
This is on the demo server if you want to kick the tires. Or install the patches or get the container. Please give us any feedback as we plan to iterate on this soon.
Here are some examples:
How a folder is organized: (note, the objects are clickable to focus on a different location!) Note, the numbers on the groups are the member count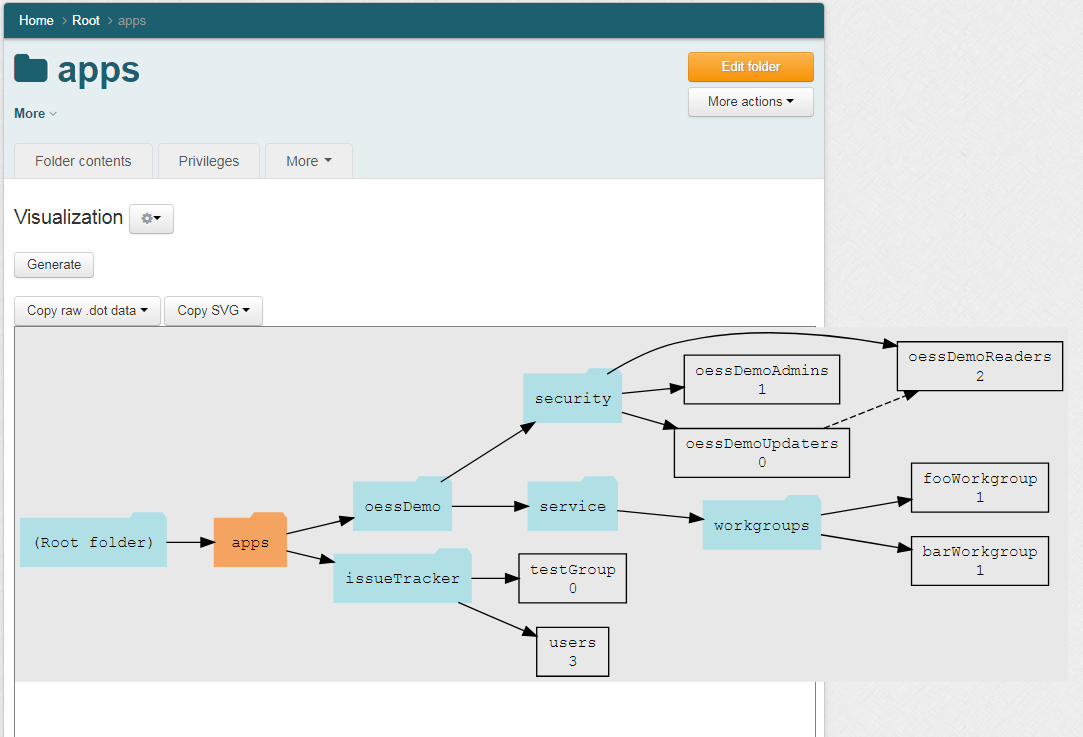 Here is how a group is used and constructed

Here is how a user is visualized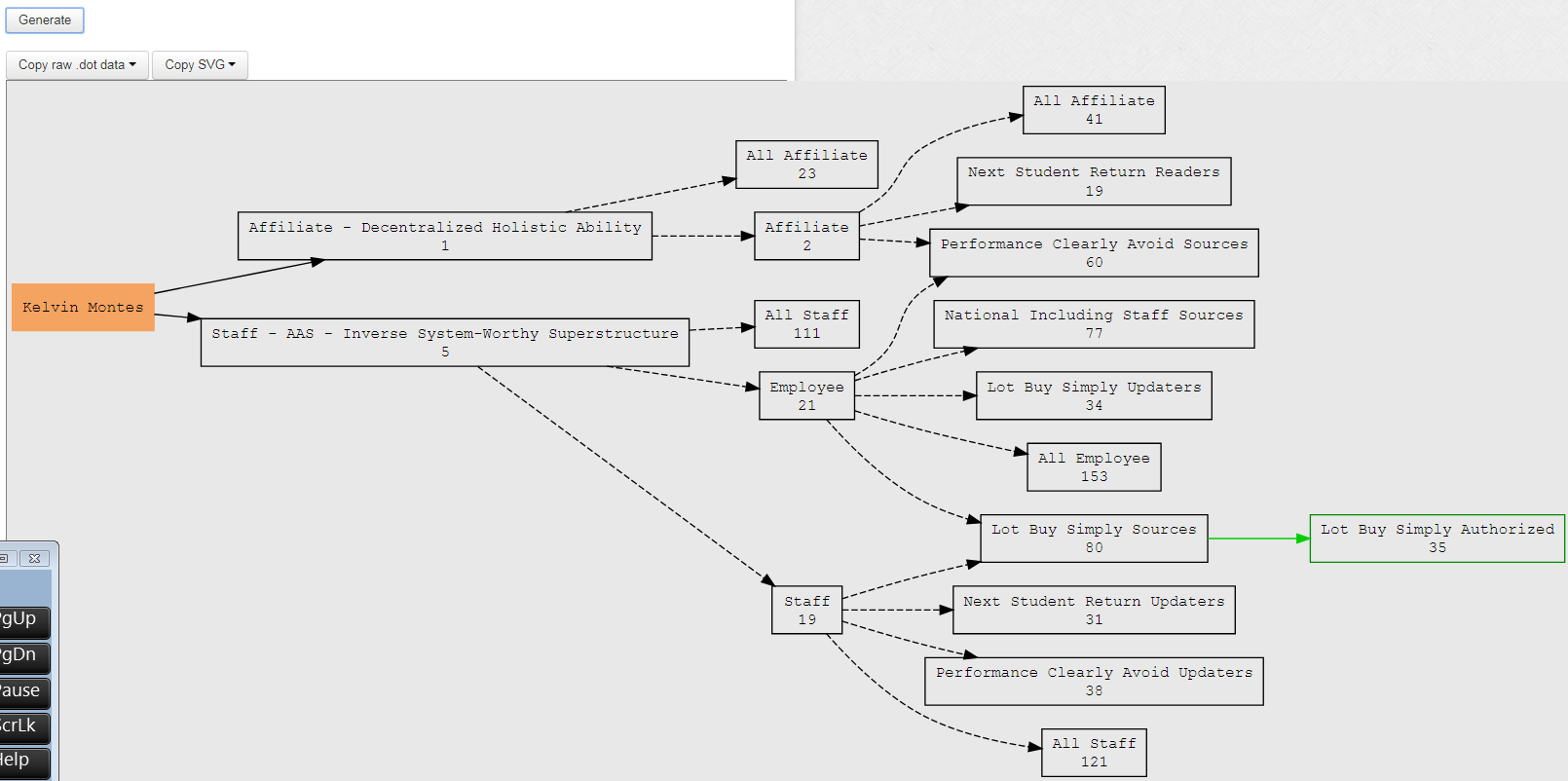 There is also a text version of this analysis, for accessibility or other reasons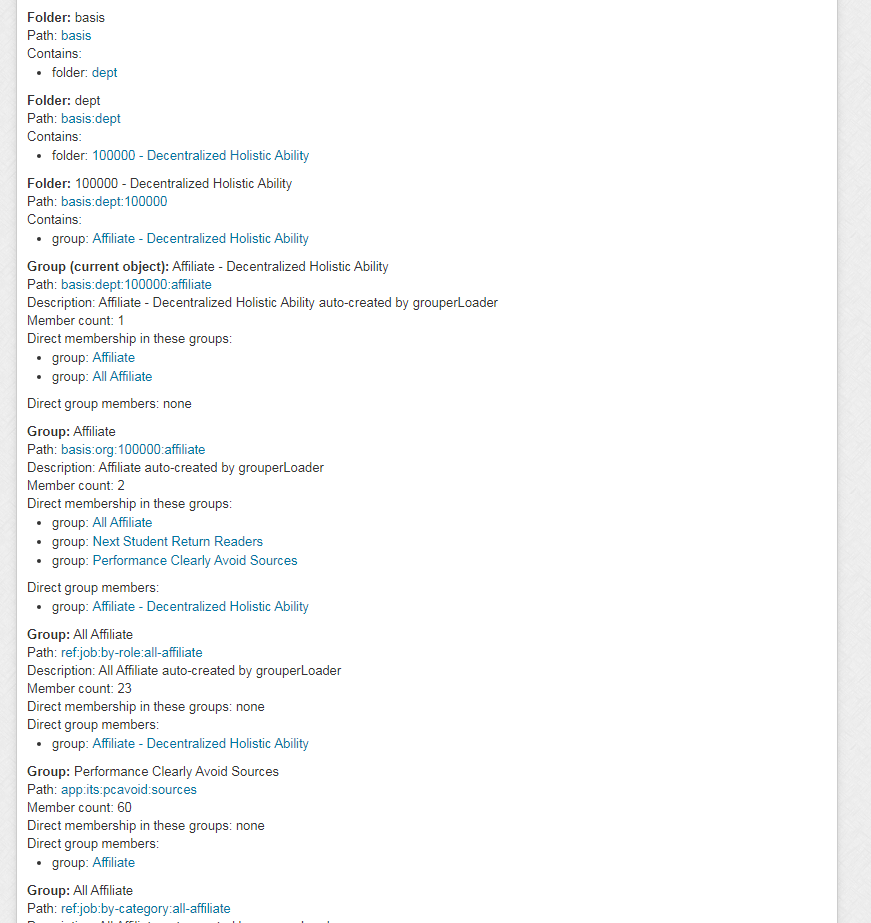 Here are some configurations: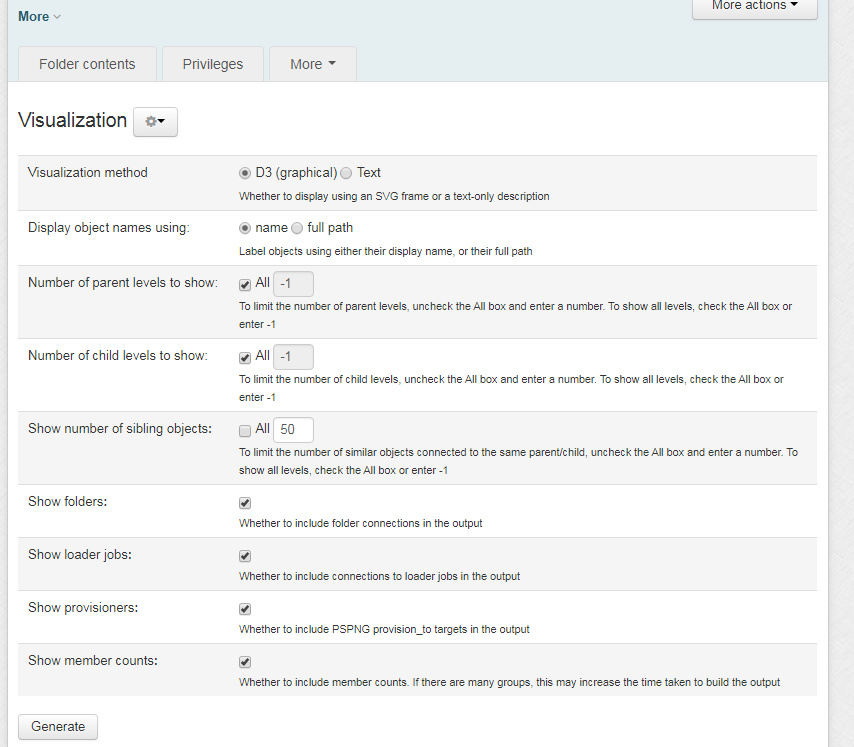 Thanks again for the hard work of Chad, Michael, and Nick, and the speedy collaboration that took place.
Chris
Ps. patches:
grouper_v2_4_0_api_patch_28
grouper_v2_4_0_api_patch_29
grouper_v2_4_0_ui_patch_12
grouper_v2_4_0_ui_patch_13
Jira: https://bugs.internet2.edu/jira/browse/GRP-1966
Wiki: https://spaces.at.internet2.edu/display/Grouper/Visualization+UI https://spaces.at.internet2.edu/display/Grouper/Grouper+Visualization+API
---
RE: [grouper-users] grouper ui visualization patches!, Hyzer, Chris, 03/22/2019
---
Archive powered by MHonArc 2.6.19.