grouper-users - RE: [grouper-users] UI timeout is very short
Subject: Grouper Users - Open Discussion List
List archive
From: "Hyzer, Chris" <>
To: Jeff McCullough <>
Cc: Gouper Users List <>
Subject: RE: [grouper-users] UI timeout is very short
Date: Wed, 10 Feb 2016 00:04:42 +0000
Accept-language: en-US
Authentication-results: berkeley.edu; dkim=none (message not signed) header.d=none;berkeley.edu; dmarc=none action=none header.from=isc.upenn.edu;
Spamdiagnosticmetadata: NSPM
Spamdiagnosticoutput: 1:23
---
If you have a new session how long until it happens? Any errors on the server? Any chance you can get a firebug network trace to see what the server response is? Any changes in load balancing recently? J How often does this happen?
Thanks
Chris
From: Jeff McCullough [mailto:]
Sent: Tuesday, February 09, 2016 5:43 PM
To: Hyzer, Chris <>
Cc: Gouper Users List <>
Subject: Re: [grouper-users] UI timeout is very short
I don't think that is it. I realize I probably didn't provide enough detail. It is an intermittent error. Here is an example. See the two attach screen shots. I clicked on the plus sign next to the Official folder. Nothing happens except the plus sign disappears.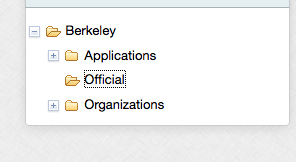 If I click on the Official folder at that point, it will likely end up going to the "Start Over" screen, but even that is intermittent.Thoughts?
On Feb 8, 2016, at 8:09 PM, Hyzer, Chris <> wrote:

Do you want to try changing the timeout of the servlet container to be greater than the timeout of your authentication that will redirect to a login screen or the SSO server (and back?)? J

From: [] On Behalf Of Jeff McCullough
Sent: Monday, February 08, 2016 10:30 PM
To: Gouper Users List <>
Subject: [grouper-users] UI timeout is very short

We are using 2.2.1 and the UI seems to timeout in a very short time. If I click on an item is say the left column, the browser is taken to the "There was an error with your request" and "Click here to start over". Alternately, refreshing using command(or control)-R in most browsers will just recycle the screen and I can continue to work. I did some searching and see an email <https://lists.internet2.edu/sympa/arc/grouper-dev/2014-08/msg00040.html> and bug report <https://bugs.internet2.edu/jira/browse/GRP-1015> that says this behavior or something similar is supposed to be fixed in 2.2.1. That said, someone else also commented that they are seeing the issue.

I'm wondering if this is a problem unique to our site or an actual bug. Any ideas?
---
---
Archive powered by MHonArc 2.6.16.