i2-news - [I2-NEWS] Internet2 Implements First Large-scale Deployment of ONOS in Live Network
Subject: News for and about the Internet2 community
List archive
[I2-NEWS] Internet2 Implements First Large-scale Deployment of ONOS in Live Network
Chronological
Thread
From: Glenn Lipscomb <>
To: "" <>
Subject: [I2-NEWS] Internet2 Implements First Large-scale Deployment of ONOS in Live Network
Date: Mon, 15 Jun 2015 11:57:35 +0000
Accept-language: en-US
Authentication-results: internet2.edu; dkim=none (message not signed) header.d=none;
---
Internet2 Implements First Large-scale Deployment of ONOS in Live Network
Collaboration between Internet2 and Indiana University takes a step into the future by migrating to an SDN-based network with ONOS-based solution
WASHINGTON, D.C., June 15, 2015—Internet2, the Open source SDN Network Operating System (ONOS) community, and the Internet2 NOC at Indiana Universitytoday announced they have actively deployed ONOS on Internet2's nationwide research and education (R&E) network. Five higher education institutions —Duke University, Florida International University, theIndiana GigaPoP,MAX and theUniversity of Maryland – College Park, and theUniversity of Utah—are connected to a virtual slice of theInternet2 nation-wide network that is piloting this next-generation advanced network technology.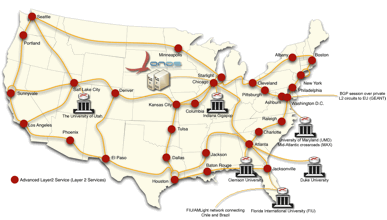 ONOS deployed on the Internet2 Network
"This is a major milestone in the SDN era," said Rob Vietzke, vice president of network services at Internet2. "We are pleased to partner with the ONOS project team to deploy this breakout software-defined capability for the first time on a nation-wide production network. This work is a notable contribution by the R&E community in the effort to explore new research ideas in the field of networking and create prototype services that will influence the next generation of the Internet."
Internet2 operates the largest and fastest research and education (R&E) network in the U.S., at speeds of more than 100 Gbps and at 8.8 Tbps of capacity, built atop an SDN substrate. More than 200 major research universities and 100 countries connect to one another using advanced broadband connections over Internet2.
With this effort, Internet2 is using the capabilities of its SDN substrate to provision virtual networks based on FlowSpace Firewall. An ONOS cluster is deployed in a virtual network slice on the Internet2 network, controlling 38 OpenFlow-enabled Brocade and Juniper switches. The SDN-IP Peering application deployed atop ONOS peers with other, traditional networks. An SDN-based network like Internet2 provides benefits such as network programmability, lower TCO and removal of vendor lock-in. In this particular case, the centralized control plane leads to significant improvements in network operation efficiency for the Internet2 network.
The ONOS project worked with the Internet2 NOC at Indiana University to validate the ONOS/SDN-IP solution as one of the first virtual SDN networks deployed in production on Internet2's nationwide network substrate. This deployment has allowed the ONOS community to show the platform and the application's ability to work with heterogeneous hardware devices, at scale, in a real network scenario. Early work in this space also generated useful feedback that is now included as part of the requirements for upcoming ONOS releases.
"We worked closely together in a lab environment to prepare ONOS for production deployment on the Internet2 Network, providing many valuable insights on production deployment of SDN-controlled virtual networks in a multi-tenant environment," said Luke Fowler, director of software and systems for the GlobalNOC.
"A primary feature of the Internet2 Network is its ability to serve as a 'playground' for piloting new advanced networking capabilities in a real-world environment with demanding users and advanced applications capabilities," said Vietzke. "The ONOS and SDN-IP peering deployment is another demonstration of how Internet2 and the academic community continue to be a large scale platform in which pre-market innovations can be prototyped at scale."
"ON.Lab, the ONOS Project and Internet2 have a very synergistic collaboration. At ON.Lab we develop interesting open source SDN platforms and Internet2 is a keen early adopter bringing new capabilities to its customers," said Bill Snow, vice president of Engineering for ON.Lab. "With the deployment of ONOS on Internet2's nationwide network, we get to validate and demonstrate ONOS's scalability, performance and high availability in a production setting and learn from this experience to make ONOS better."
During ONS2015, there will be a live demonstration of this deployment. Please come join us in the SDN Solutions Showcase for a live walk-through.
Industry Takeaways
In addition to having ONOS deployed in a large production network, there are other significant takeaways of this solution that are worth the industry's attention.
The solution is simple and yet very powerful. It delivers a migration solution, whereby new SDN capabilities can be deployed alongside existing IP-based networks so that industry adopters can allow the two to coexist while accelerating SDN adoption in real networks. The operators now have a choice to start the SDN deployment in any isolated environment and then leverage an SDN-IP Peering type of application to connect this SDN island to the rest of the network. Following that, they will be able to apply the SDN technology to the whole network gradually at their own pace.
This solution may also be useful when operators want to build an SDN based transit network, where high capacity is needed and lower CAPEX/OPEX is desired. This SDN-IP Peering app along with ONOS is an optimal choice to help build such a cost-effective transit network.
As of today, the use of this app on the Internet2 Network has already expanded, peering with additional deployments of ONOS at other universities and National R&E Networks around the globe, including European R&E network GEANT/GARR and South American R&E Network AmLight/FIU.
Technical Details
The SDN-IP Peering application developed by the ONOS project team and leveraging the open source Quagga BGP suite, runs over ONOS, enabling peering among the SDN-based Internet2 network with traditional IP-based networks and other SDN-based networks. The SDN-IP Peering application establishes an iBGP connection with a traditional router (or multiple connections when needed) in the SDN domain. This traditional IP router will then build an eBGP peering relationship with the targeted IP network. Through the BGP protocol, ONOS gains the knowledge of how to reach the external IP network.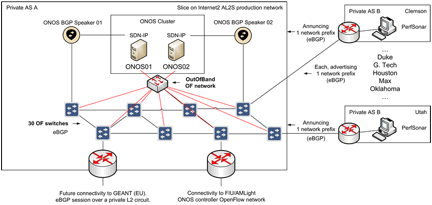 Based on the BGP routing information received, ONOS makes forwarding decisions for the SDN-based domain and then downloads the OpenFlow forwarding information to the switches. With this application, a communication channel is established between the traditional IP network and SDN network and yet all switches in the SDN domain do not need to support any routing protocol and remain pure SDN OpenFlow-based devices.
ON.Labannounced the availability of ONOS last December. The main partners include AT&T, China Unicom, Ciena, Cisco, Ericsson, Fujitsu, Huawei, Intel, the U.S. National Science Foundation, NEC, NTT Communications and SK Telecom.
About Internet2
Internet2® is a member-owned advanced technology community founded by the nation's leading higher education institutions in 1996. Internet2 provides a collaborative environment for U.S. research and education organizations to solve common technology challenges, and to develop innovative solutions in support of their educational, research, and community service missions. Internet2 also operates the nation's largest and fastest, coast-to-coast research and education network, in which the Network Operations Center is powered by Indiana University. Internet2 serves more than 90,000 community anchor institutions, 280 U.S. universities, 65 government agencies, 40 regional and state education networks, 85 leading corporations working with our community and more than 65 national research and education networking partners representing more than 100 countries. Internet2 offices are located in Ann Arbor, Mich.; Denver, Colo.; Emeryville, Calif.; Washington, D.C; and West Hartford, Conn. For more information, visit www.internet2.edu or follow @Internet2 on Twitter.
About the ONOS project
ONOS is the open source SDN networking operating system for Service Provider networks architected for high performance, scale and availability. ONOS' ecosystem comprises of ON.Lab and organizations that are funding and contributing to the ONOS initiative. These include AT&T, NTT Communications, SK Telecom, China Unicom, Ciena, Cisco, Ericsson, Fujitsu, Huawei, Intel and NEC; members who are collaborating and contributing to ONOS include ONF, Infoblox, SRI, Internet2, Happiest Minds, KISTI, KAIST, Kreonet, NAIM, CNIT, Black Duck, Create-Net, Criterion Networks and the broader ONOS community. Learn how you can get involved with ONOS at onosproject.org.
About the GlobalNOC at Indiana University
The Global Research Network Operations Center (GlobalNOC) at Indiana University provides carrier grade operations, tools, and network expertise, while placing a singular focus on the unique requirements of our research and education (R&E) community. IU formed the GlobalNOC in 1998 to help Internet2 found its new R&E networking community, providing high quality network operations center services for Internet2's Abilene network. Since then, we have evolved alongside the community we serve, growing from a three-person staff to an organization of more than 90 people who deliver unrivaled service and support for the world's most advanced research and education networks.
Internet2 Contact
Glenn Lipscomb, 720-379-9677,
ONOS Project Press Contact
Bob Eastwood, Engage PR for ON.Lab, 510-748-8200 x215,
ON.Lab & ONOS Contact
Sheryl Zhang, Chief of Strategy and Partnerships for ON.Lab,
Indiana University
Ceci Jones, 812-856-2337,
---
[I2-NEWS] Internet2 Implements First Large-scale Deployment of ONOS in Live Network, Glenn Lipscomb, 06/15/2015
---
Archive powered by MHonArc 2.6.16.