grouper-users - [grouper-users] Show and filter group memberships under a folder
Subject: Grouper Users - Open Discussion List
List archive
From: Shilen Patel <>
To: " Mailing List" <>
Subject: [grouper-users] Show and filter group memberships under a folder
Date: Thu, 21 Mar 2019 15:18:32 +0000
---
I released a patch yesterday (grouper_v2_4_0_ui_patch_20) that allows you to see and filter all the group memberships under a folder. The filtering includes custom composites so you can easily/quickly see all the memberships under a folder that don't belong to an employee (for example). Note that custom composites was a new feature released last month.
More information and details on how to set up custom composites are available here:
https://spaces.at.internet2.edu/display/Grouper/Membership+UI+Advanced+Options
This is under the "More" tab:

And here's what it looks like: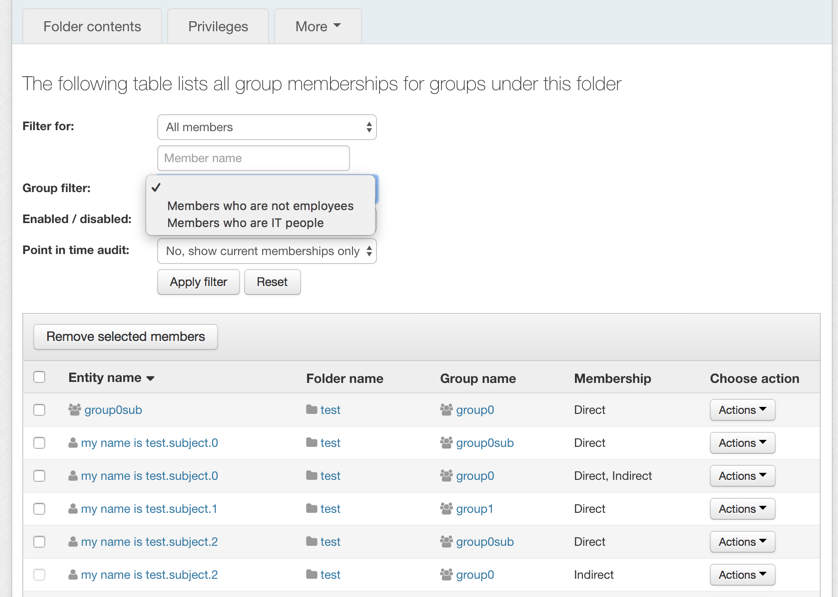 Thanks!
- Shilen
---
[grouper-users] Show and filter group memberships under a folder, Shilen Patel, 03/21/2019
---
Archive powered by MHonArc 2.6.19.