grouper-users - [grouper-users] RE: oldap source / wheel group privs?
Subject: Grouper Users - Open Discussion List
List archive
From: "Hyzer, Chris" <>
To: "Singley, Norman" <>, "" <>
Subject: [grouper-users] RE: oldap source / wheel group privs?
Date: Thu, 3 Nov 2016 18:14:16 +0000
Accept-language: en-US
Authentication-results: spf=none (sender IP is ) ;
Ironport-phdr: 9a23:e/PmYxYKclGY/eNWUCLKNqL/LSx+4OfEezUN459isYplN5qZpMi/bnLW6fgltlLVR4KTs6sC0LuM9fC/Ej1Zqb+681k6OKRWUBEEjchE1ycBO+WiTXPBEfjxciYhF95DXlI2t1uyMExSBdqsLwaK+i760zceF13FOBZvIaytQ8iJ3p7xh7/5qsSbSj4LrQL1Wal1IhSyoFeZnegtqqwmFJwMzADUqGBDYeVcyDAgD1uSmxHh+pX4p8Y7oGx48sgs/M9YUKj8Y79wDfkBVGxnYCgJ45ihjhjFQg+C9z9UdGIMlxNOSUCRyhbgW5739BD7sOV51TiyONbxC60xRXKv47o9DFeihz0AKiY06iTKkcFql4papg6svRpy39SSbY2IfrIqcbnaYMsXXy9cRctLTARABJ+xdY0CE7BHMOpF+drTvVwL+FGeFBuhHqen4T9Sh2S8lfk/2OQwAwzc9A07FJQTqHnSqpP4OLpEArP997XB0TiWN6Ae4jz68oWdN0l5+fw=
Spamdiagnosticmetadata: NSPM
Spamdiagnosticoutput: 1:99
---
Go to WEB-INF classes and make sure the sources.xml is what you expect it to be. At some point this worked if you were able to add them J
Look in grouper_members table and see the rows for those users. Then look them up by id in your directory and see if that works
(& (umid=%TERM%) (objectclass=EduPerson))
ou=people,dc=umt,dc=edu
Thanks
Chris
From: [mailto:] On Behalf Of Singley, Norman
Sent: Thursday, November 03, 2016 12:35 PM
To:
Subject: [grouper-users] oldap source / wheel group privs?
Hi folks.
Thanks for all the help with the CAS issues I was having. I got it so I could log in, but I think there's something not quite right. I had added three users from the open ldap into the wheel group before I configured the CAS/Shib login. When I log in with one of these users, I can see them, but they also say "entity not found" and I don't seem to have any privs with these users to add groups or make folders. I can add new users to the Wheel Group, and then look fine for a minute, but then after working with them a bit, they revert to this: Entity not found: netid display.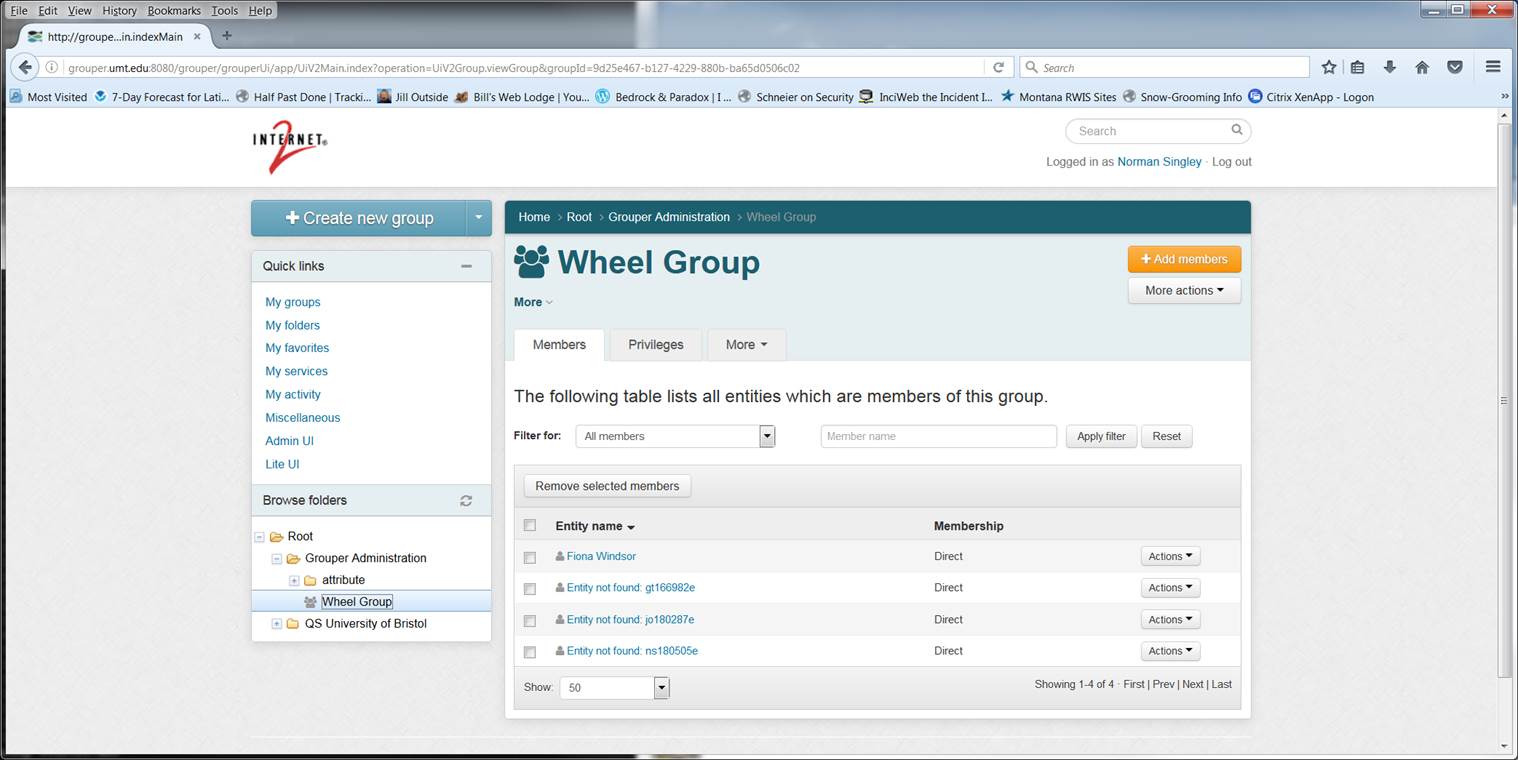 When I click on one of these users, I get an Error: Can't find Subject.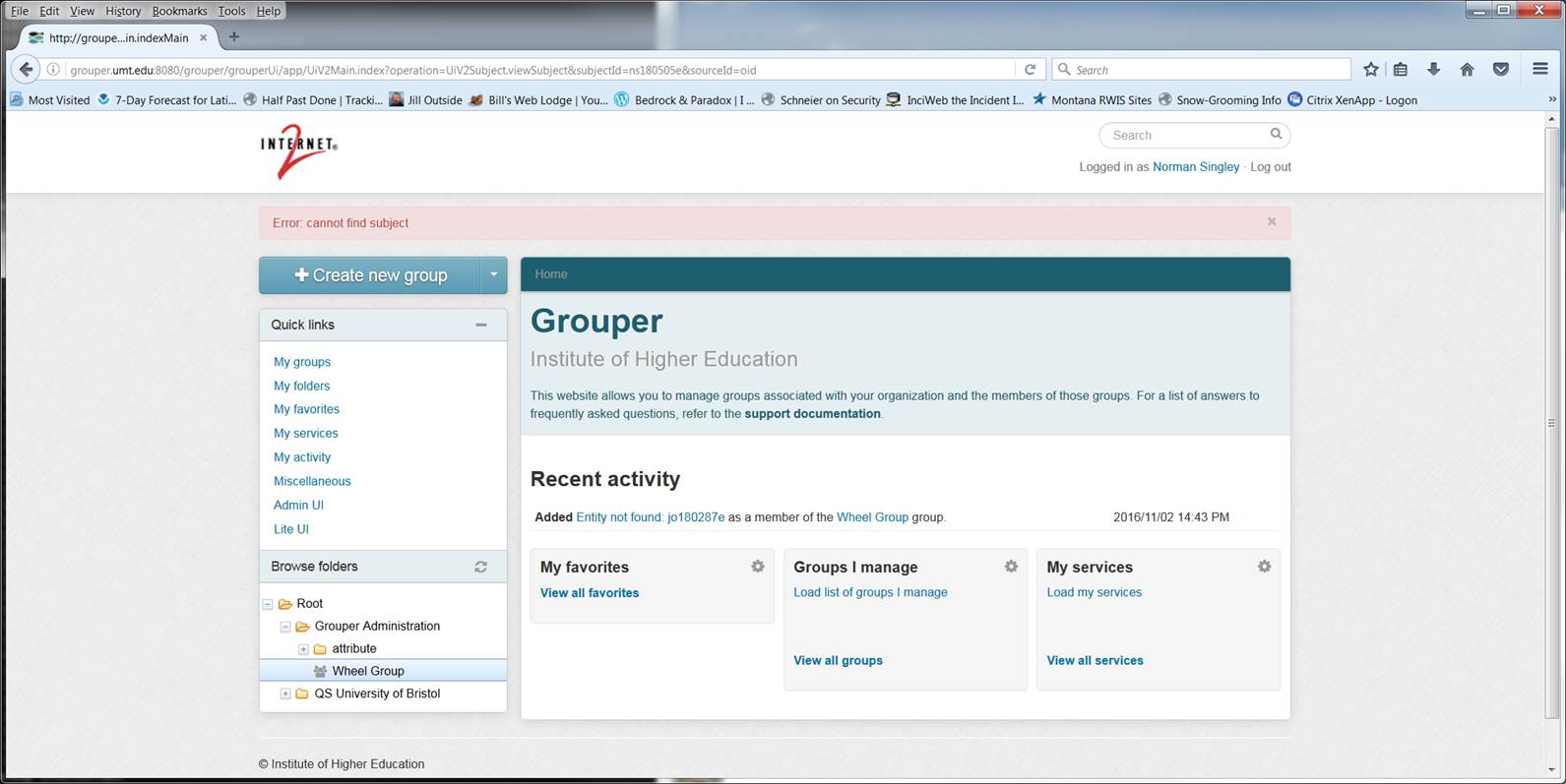 I've attached my current sources.xml file – perhaps it's something with the oldap source?
Thanks again.
Norman Singley
Directory Services
406 243 6799
---
---
Archive powered by MHonArc 2.6.19.