grouper-users - [grouper-users] Improve display of enabled/disabled date in NewUI
Subject: Grouper Users - Open Discussion List
List archive
From: Yoann Delattre <>
To: "" <>
Subject: [grouper-users] Improve display of enabled/disabled date in NewUI
Date: Fri, 13 Mar 2015 11:11:52 +0100
---
Hi,

is it possible to add the disabled date for a member directly in the group's member list ?
Something like that :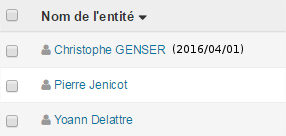 Another thing. When i set an enabled date for a member, he disappears from the group. It's a little disturbing. Is there a way to show a member, in the group's member list, even if there is an enabled date ?

Thanks,
Yoann.

---
[grouper-users] Improve display of enabled/disabled date in NewUI, Yoann Delattre, 03/13/2015
---
Archive powered by MHonArc 2.6.16.