grouper-users - [grouper-users] RE: New UI: Admin vs. normal user
Subject: Grouper Users - Open Discussion List
List archive
From: Chris Hyzer <>
To: "Michael R. Gettes" <>, "" <>
Subject: [grouper-users] RE: New UI: Admin vs. normal user
Date: Thu, 14 Aug 2014 07:48:40 +0000
Accept-language: en-US
---
This is fixed, you can patch your 2.2.0 if you like or wait for 2.2.1+.
https://bugs.internet2.edu/jira/browse/GRP-1010
https://github.com/Internet2/grouper/commit/411e25cd7edbb2b456b8c83aaede91c72700eaad
This shows it working: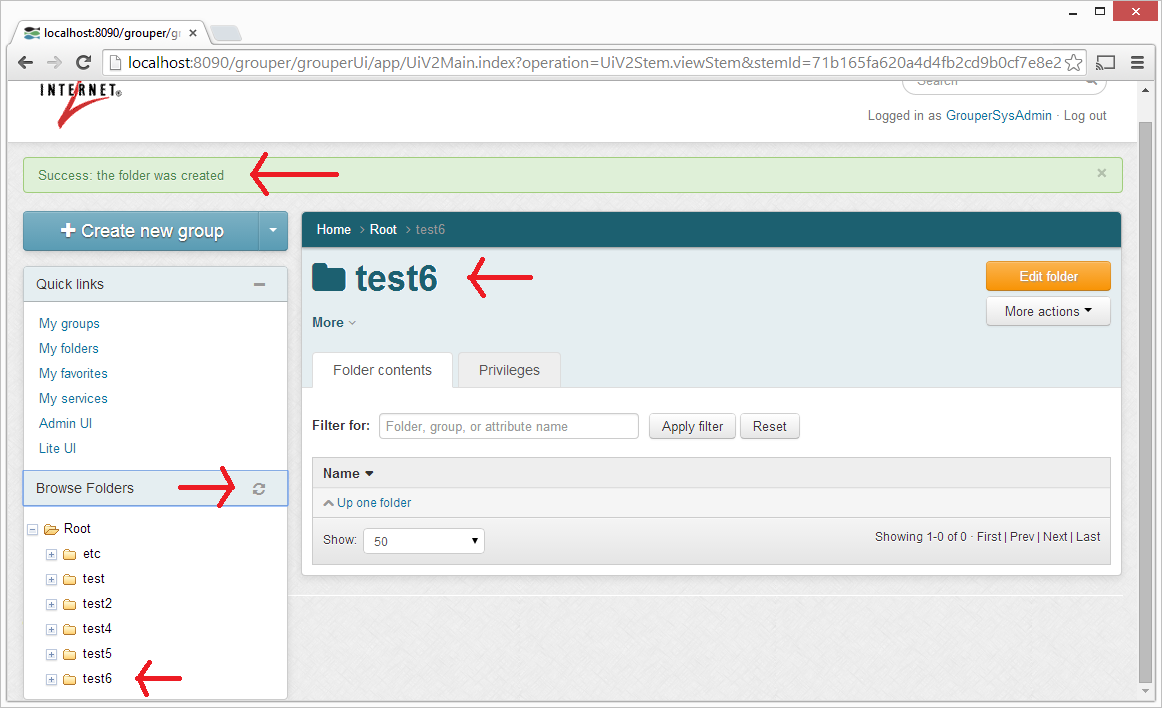 Thanks,
Chris
-----Original Message-----
From: [mailto:] On Behalf Of Michael R. Gettes
Sent: Tuesday, July 22, 2014 11:28 AM
To:
Subject: [grouper-users] New UI: Admin vs. normal user
Firstly… THANK YOU Grouper team for the new UI. We are excited to get it up and running.
In the new UI, it would appear there is no longer a distinction between operating as an Admin and as myself. I presume this is intentional. I kinda liked being able to act as a normal user. Will this be a future capability of the new UI?
Also, I created a new group in an existing folder (as admin) and the folder was open/visible in the Browse Folders pane. The new group did not get added automatically to the Browse Folders pane. It is displayed in the My groups link. When I reload the page, the Browse Folders pane shows the new group. Either i am doing something wrong/stupid (as i usually do) or this is a bug. if a bug, i am happy to create an jira item.
/mrg
---
[grouper-users] RE: New UI: Admin vs. normal user, Chris Hyzer, 08/14/2014
---
Archive powered by MHonArc 2.6.16.