grouper-dev - [grouper-dev] Draft Minutes: Grouper-Dev call of 29-Jan-2014
Subject: Grouper Developers Forum
List archive
From: Emily Eisbruch <>
To: "" <>
Subject: [grouper-dev] Draft Minutes: Grouper-Dev call of 29-Jan-2014
Date: Tue, 4 Feb 2014 12:20:00 +0000
Accept-language: en-US
---
Draft Minutes: Grouper-Dev call of 29-Jan-2014
Attending
Chris Hyzer, Penn (stand-in chair)
Jim Fox, University of Washington
Dave Langenberg, U. Chicago
Emily Eisbruch, Internet2, scribe
New Action items
[AI] (Chris) will respond to the CMU inquiry about exact match searching and cc the Grouper-dev list
[AI] DaveL handle response to the Shib Grouper question.
[AI] Chris respond to Bill about presenting at the Apereo Conference
[AI] (Chris) create a JIRA about Grouper Loader handling of Unresolvable Subjects
[AI] (Chris) reply to UCLA about null pointer exception and permissions on Web Services (DONE, see JIRA 954)
Carry Over Action items
[AI] (Chris) will look at POST and GET parameter issues, identified as a flawed design pattern from the PEN testing
[AI] (Shilen) email the Grouper users list about import and export
[AI] (DaveL) work on the PSP aspect of GRP 914.
[AI] (Andrew) let us know what emerges from the Apereo security notification process work.
DISCUSSION
Summary of Recent Issues on the Grouper Email Lists
-------------------------
Issue: PSP error with 1500 members in group
Response: DaveL created a JIRA.
--------------------------
Issue: Univ. of Utah question on rename stems.
Response: DaveL responded.
--------------------------
Issue: UCLA asked about best approaches for importing roles.permissions, and folders
Response: Chris shared info on how to use GSH scripts to make roles and permissions.
Note that the Quickstart is somewhat outdated, so it's better to use GSH, including for making folders.
--------------------------
Issue: (this was not on the public Grouper lists, but was directed to Chris)
Request from CMU about using "=searchterm" or "term1,term2,term3" to do exact match searching.
Response: Chris will look into implementing a checkbox that says "Match Exact IDs"
[AI] (Chris) will respond to the CMU inquiry about exact match searching and cc the Grouper-dev list
--------------------------
Issue: Need a membership data connector
--------------------------
Issue: UCLA inquired about permissions on Web Services
Response: Chris has replied and created JIRA 954
--------------------------
Issue: U. of Utah asked about Grouper loader and unresolvable subjects. Would be good have an option to ignore unresolvable subjects in the Grouper Loader. DaveL noted this is an issue at U. Chicago also.
[AI] (Chris) create a JIRA about Grouper Loader handling of Unresolvable Subjects
--------------------------
https://lists.internet2.edu/sympa/arc/grouper-users/2014-01/msg00050.html
Response: this email was received during the Grouper-dev call.
The Grouper-core groups needs to think about this and respond.
Is a validation hook needed? Would a rule be useful?
--------------------------
Shibboleth Grouper Integration
DaveL is responding to the question on the Grouper-users list about integration with Shibboleth, especially how to install the Grouper/Shib connector in Shib. Additional documentation is needed beyond what is already here:
This additional documention might be located in the Shib contributions area or might be in the Grouper wiki. In either case, it will make sense to link to it from the other place. In the documentation, DaveL will note that from a high-level architecture point of view, it's better to push group membership information to LDAP/AD where Shibboleth will grab it along with the other attributes or to use the

RDBMS Connector and query the grouper database via it's various views
Q: Do we have a training video on Shib Integration topic?
A: Yes It's in the PSP training videos
[AI] DaveL handle response to the Shib Grouper question.
Grouper V. 2.2
Chris is making progress on the new Grouper 2.2 UI.
Will probably make it possible to explicitly view a group's group privileges, a group's folder privileges, and a group's attribute definition privileges.
Then Chris will work more on the subject screen regarding displaying the subject's membership and privileges, etc.
Chris has also been working on the API and setting up the ability to query for which objects a group has privileges on. This approach can be used for subjects too.
SCIM
https://spaces.internet2.edu/display/Grouper/Grouper+SCIM+integration
DaveL and Chris have been in communication about the SCIM work. Dave was putting SCIM work into Grouper API area.
Now he is putting the SCIM work into the Grouper MISC area.
Attriibute Legacy Migration work: no update
Grouper 2.2 Release
Vivek commented that UCLA was thinking about creating a custom UI, but is impressed by the new Grouper UI and is hoping to use that.
When is the Grouper 2.2 release planned? Answer: hopefully in spring.
Next Grouper-Dev Call: Wed. Feb, 12, 2014 at noon ET
Emily Eisbruch, Technology Transfer Analyst
office: +1-734-352-4996 | mobile +1-734-730-5749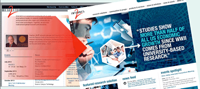 ---
[grouper-dev] Draft Minutes: Grouper-Dev call of 29-Jan-2014, Emily Eisbruch, 02/04/2014
---
Archive powered by MHonArc 2.6.16.