grouper-users - [grouper-users] How to define stem navigator privileges
Subject: Grouper Users - Open Discussion List
List archive
From: Olivier Salaün <>
To: "" <>
Subject: [grouper-users] How to define stem navigator privileges
Date: Wed, 25 Mar 2020 16:48:54 +0100
---
After an upgrade from Grouper 2.2.2 => 2.4.0 we noticed a difference regarding stem navigation in th GUI.
With Grouper 2.2.2 any logged in user could navigate through the stems/groups. However he could not view group members, unless he was member of the group listed in groups.wheel.readonly.group properties. This behavior was suiteable for us.
With Grouper 2.4.0 (with parameters from 2.2.2 maintained) any logged in user can no more navigate through the stems/groups. Here is what he sees :
I went through the wiki, changelog and grouper-ui-ng.base.properties properties, but could not find a way to change this behavior.
Is this a known change from 2.2.2 to 2.4.0?

Is there a property to customize this behavior?
Thanks you

-- 
Olivier Salaün
DSI / pôle SI / équipe SNUM
Tel : 02 23 23 74 54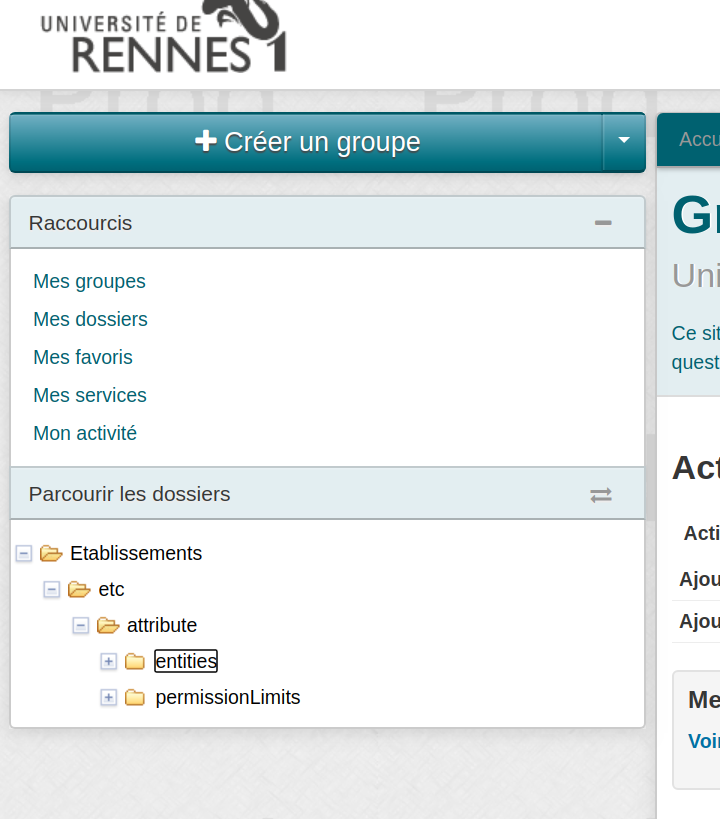 ---
[grouper-users] How to define stem navigator privileges, Olivier Salaün, 03/25/2020
---
Archive powered by MHonArc 2.6.19.