grouper-users - Re: [grouper-users] grouper ui visualization patches!
Subject: Grouper Users - Open Discussion List
List archive
From: Nick <>
To: "Hyzer, Chris" <>, " Mailing List" <>
Subject: Re: [grouper-users] grouper ui visualization patches!
Date: Sun, 17 Feb 2019 13:13:03 +1300
---
Wow. This is flipping awesome!
Great work Chris.
On 2/17/19 11:47 AM, Hyzer, Chris wrote:

The whole Grouper team has been releasing a lot of compelling patches lately, but this one is particularly exciting.
Michael Gettes and Nick Ivanov had the simultaneous independent idea for this, and each implemented a proof of concept.  Grouper developer Chad Redman took what they did (parts of each POC) and added a lot of features, and incorporated this into Grouper.  Thanks to all three of you!
In the latest Grouper patches, and soon to be a grouper package, you can see graphically how a Group, Folder, or Entity is used in grouper.  This will show end users how a group is constructed (e.g. the policy), where a groups is used (e.g. if changes are needed), or how a folder is organized (we know it can get confusing).
This is on the demo server if you want to kick the tires.  Or install the patches or get the container.  Please give us any feedback as we plan to iterate on this soon.
Here are some examples:
How a folder is organized: (note, the objects are clickable to focus on a different location!)  Note, the numbers on the groups are the member count
Here is how a group is used and constructed
Here is how a user is visualized
There is also a text version of this analysis, for accessibility or other reasons
Here are some configurations:
Thanks again for the hard work of Chad, Michael, and Nick, and the speedy collaboration that took place.
Chris
Ps. patches:
grouper_v2_4_0_api_patch_28
grouper_v2_4_0_api_patch_29
grouper_v2_4_0_ui_patch_12
grouper_v2_4_0_ui_patch_13
Jira: https://bugs.internet2.edu/jira/browse/GRP-1966
Wiki: https://spaces.at.internet2.edu/display/Grouper/Visualization+UI      https://spaces.at.internet2.edu/display/Grouper/Grouper+Visualization+API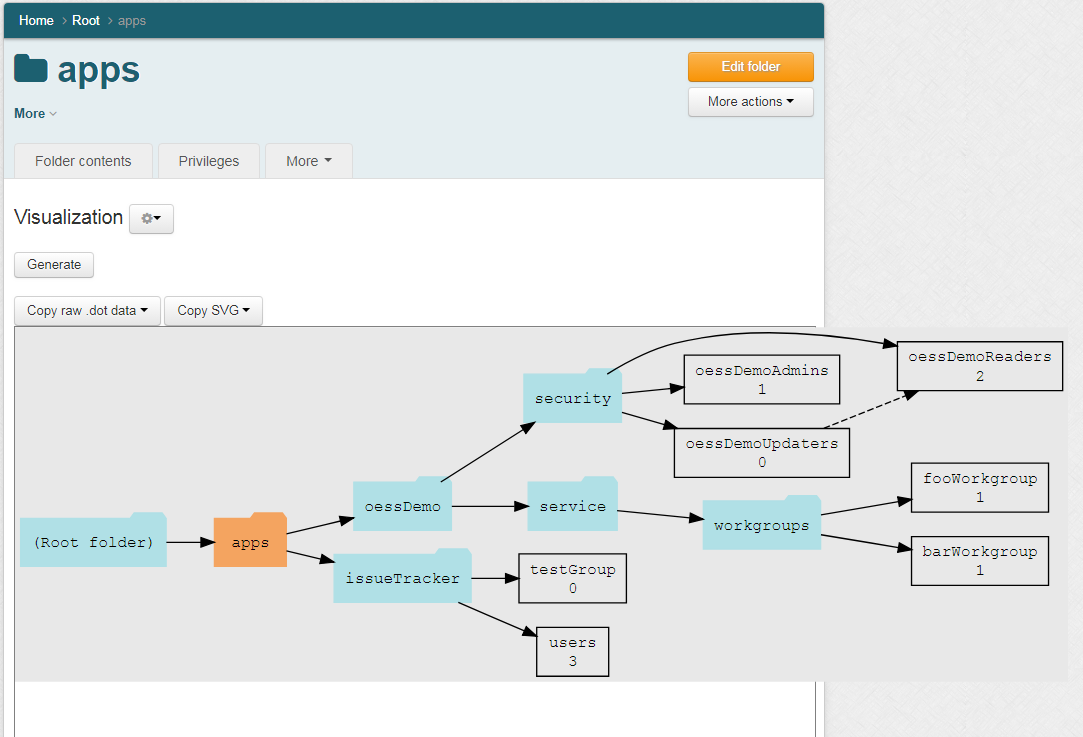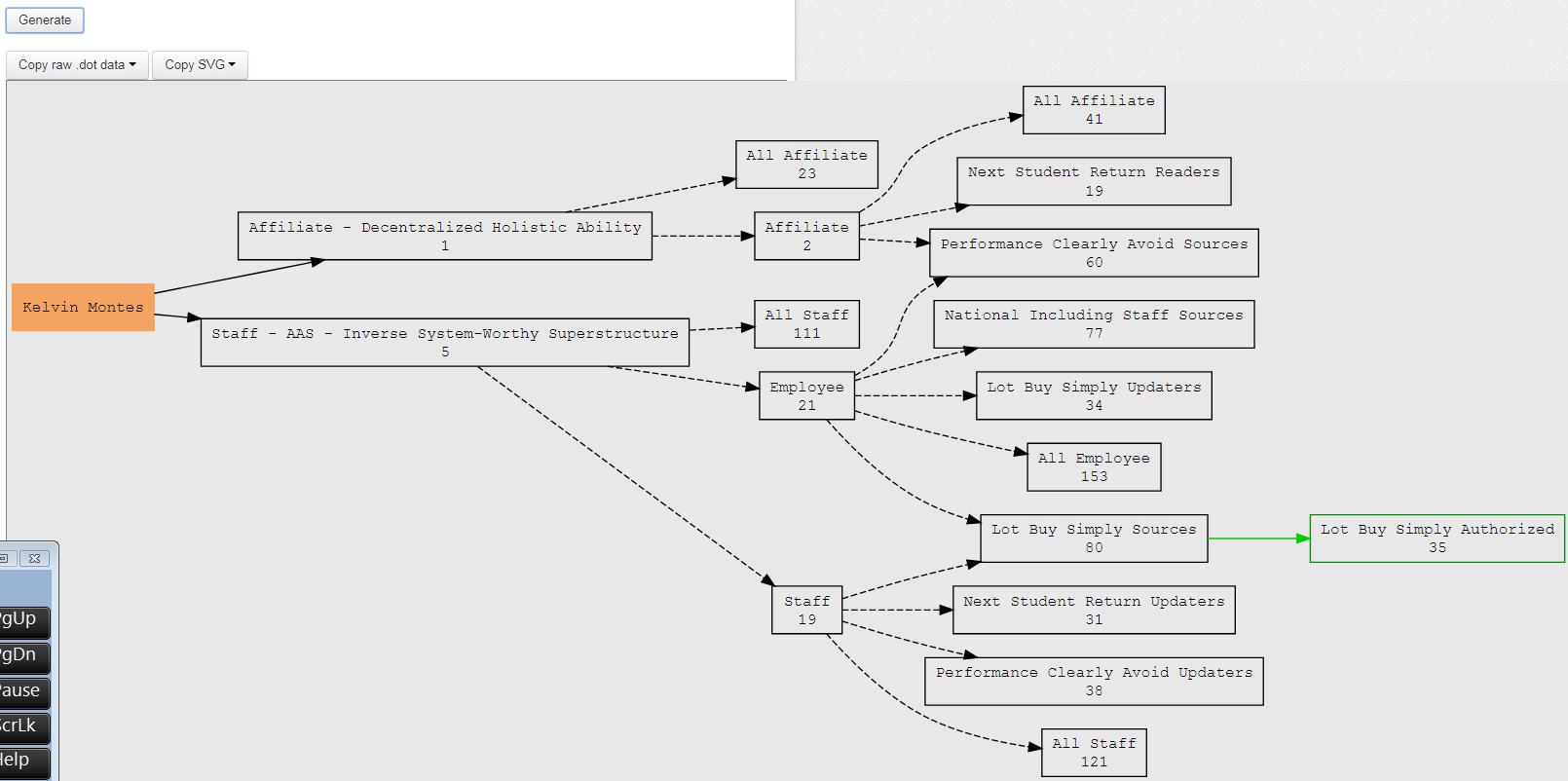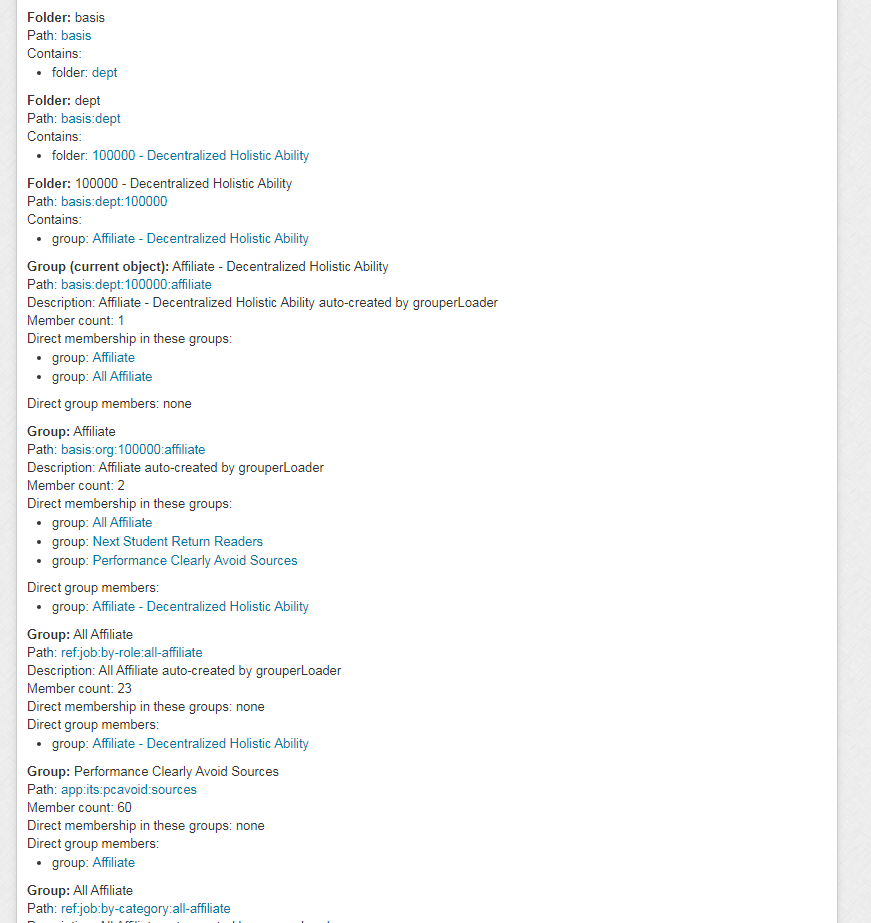 ---
---
Archive powered by MHonArc 2.6.19.