grouper-users - [grouper-users] Grouper UI Filtering Issue
Subject: Grouper Users - Open Discussion List
List archive
From: Ryan Rumbaugh <>
To: "" <>
Subject: [grouper-users] Grouper UI Filtering Issue
Date: Fri, 9 Nov 2018 18:11:40 +0000
Accept-language: en-US
Ironport-phdr: 9a23:c8npohK6DvZoDj+ddNmcpTZWNBhigK39O0sv0rFitYgeI/jxwZ3uMQTl6Ol3ixeRBMOHs60C07KempujcFRI2YyGvnEGfc4EfD4+ouJSoTYdBtWYA1bwNv/gYn9yNs1DUFh44yPzahANS47xaFLIv3K98yMZFAnhOgppPOT1HZPZg9iq2+yo9JDffwdFiCChbb9uMR67sRjfus4KjIV4N60/0AHJonxGe+RXwWNnO1eelAvi68mz4ZBu7T1et+ou+MBcX6r6eb84TaFDAzQ9L281/szrugLdQgaJ+3ART38ZkhtMAwjC8RH6QpL8uTb0u+ZhxCWXO9D9QLYpUjqg8qhrUgflhicZOTAk7GHZhM9+jKNHrx2uvBF/2ZLYbJ2POfZiYq/RY9UXTndBUMZLUCxBB5uxYZcPDuUbO+ZTspXzp0YLrRSlHwasGezvyj9VjXLxx606yfkhEQTd0wM6AtIOv3TUoc7zNKgMSu+11rPHzS7Ab/xMwzvy9pXHcg04rPyKQLl+ctLRxFEyGw7KjVics5HpMjKb2+gXrmSW4OhtWfiyh2MjqQx9uiWjytkoh4XTgo8YxErI+Ct5zYovK9C1SVZ3YdC6H5ZTqy2XMo57T8c/TG12uis3z6EJtJG1cScRzZkqwx3SZ+GbfIWN7BLuVPqeLit+iXl4YrywnQyy/lKlyuDkVsm7zlJKri1dn9nJuXEBywbc5tGbRvdh4Eus1jeC2g/P5u1aO0w0jbLbK54mwr4ripocr1nMEjXql0Xxia+abkQk+u625OT7erjqu5CROoxuhg3jM6kjlNazDfk3PwUMRWSX5OCx2b/78U38WrpKj/k2kqfDsJDdIMQWvra5AxVL0oY48xuzEzSr3dQFkXYdNl1KYxGKgJLpNlzWOvD4F+q/g1G3nzhx2vDGMb3hD47LLnfdi7jhZ6xy61VfyAUp19xQ+Y9bCqwZLPLpRkDxrMDYDgM+MwGszObnEtJ91p4GWW2RGK+VKb7SsUSW6eI1OOmBf4sVuDfmK/g5/P7ik2U1mV4bfam1w5QXcna4Eep6I0mHe3bjnMoOEXpZ9jY5GablklqfSTNJImupUrgnzjA9FI+8C4rfHMagjKHLlHO0BJpLfm1cT02XHG3zX4SCR/oWbi+OeIlsniFSBpa7TIp07wCnskfA1r9tJ/fb+mVMr4j+0dJ8+uLTvRc//yZ9FMeUlWyBUjcnzSszWzYq0fUn8gRGwVCZ3P0gjg==
Spamdiagnosticmetadata: NSPM
Spamdiagnosticoutput: 1:99
---
We're having an issue filtering and sorting members of a group and I'm hoping others can provide some tips on how to solve.
It's pretty simple to reproduce for us. Just add anyone directly to a group and attempt to search--no results will be found. Interestingly, when someone is added to a group and the mouse is hovered over the entry, no popup is displayed either and sorting is not an option either. Is there a subject.properties setting we missed or do we need to modify some defaults in grouper-ui.properties? We're running tier/grouper:2.3.0-a109-u47-w12-p21 if that helps.
Example with screenshots below:
A test group with myself as the only member, added directly.

When filtering using my first name, nothing appears.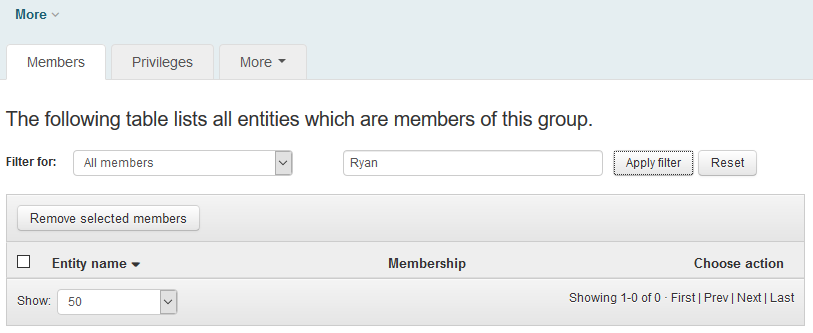 --
Ryan Rumbaugh
Identity Management Specialist
Cybersecurity & Identity |ITS|
501 123.1, 68588-0203
University of Nebraska |nebraska.edu
Kearney|Lincoln|Omaha
402-472-0831 (o)
---
[grouper-users] Grouper UI Filtering Issue, Ryan Rumbaugh, 11/09/2018
---
Archive powered by MHonArc 2.6.19.