grouper-users - [grouper-users] RE: Delegating access to attributes within 2.4 UI
Subject: Grouper Users - Open Discussion List
List archive
From: "Hyzer, Chris" <>
To: "Coleman, Erik C" <>, "" <>
Subject: [grouper-users] RE: Delegating access to attributes within 2.4 UI
Date: Fri, 2 Nov 2018 05:03:39 +0000
Accept-language: en-US
Authentication-results: spf=none (sender IP is ) ;
Ironport-phdr: 9a23:zXDm6x0SvZmjWCc0smDT+DRfVm0co7zxezQtwd8ZseMRLPad9pjvdHbS+e9qxAeQG9mDtLQc06L/iOPJYSQ4+5GPsXQPItRndiQuroEopTEmG9OPEkbhLfTnPGQQFcVGU0J5rTngaRAGUMnxaEfPrXKs8DUcBgvwNRZvJuTyB4Xek9m72/q99pHPYQhEniaxba9vJxiqsAvdsdUbj5F/Iagr0BvJpXVIe+VSxWx2IF+Yggjx6MSt8pN96ipco/0u+dJOXqX8ZKQ4UKdXDC86PGAv5c3krgfMQA2S7XYBSGoWkx5IAw/Y7BHmW5r6ryX3uvZh1CScIMb7S60/Vza/4KdxUBLmiDkJOSMl8G/ZicJwgqBUoBO9qBNw2IPUep2ZOOZkc6/BYd8WW2xMVdtRWSxbBYO8apMCA+QDM+dYrojyuUEOoQOjDgSyBOPv0D5IhmT40aYn1OkhFB3J3AwgHtMPrnvUts74NKYJUe+p1qXI0C3DYO1Q2Tf78oTHbA0uoeyVUL92bMHfylEvGhvbglqKtYDpIjaY2vkQv2SG6udgW+2ih3I7pwx0oDWg2MchhpTMi48Q1FzI6SF0zJ4oKdC2VEJ3e9qpHIZKuy2EKod7RtkuT3xqtSs70rEGt4C0cSsWxJkiwhPSafiKfJKW7R/mWuaePyp3iXJgdb6hnBm/9Umtx+jnWcS21FtGsyxImcTWuH8XzRzc8M2HR+N9/ki/3TaP0Bje5PlYLE4ziabWK4ctzLA3mJcdqEjDGTT5l1vsgK+Ra0Uk5vOn6+P6YrXgu5CQLZd0ihv5MqQyhMOwHfg4MgkJX2id4+i806Dj/VH9QLVNif02kbPVv4zdJcQevqK5AglV3Zg/6xunETupysgUkWQCIV5YZR6Lko3kO1/BLfzkEfuyhlahnylryvzbO7DsB4vBImTHnbv5eLZy8U9cyA49zdBF4JJUD6kMIPfvVU/xtN3ZDwE2MxavzubmE9VyypkSWX+XAqCHNqPSt0WE6fwyLOmRfIMVoiryK+A55/7yin80gVAdfbOu3ZsKcHC3AO5mL1yEYXr3nNgBC3wKsxE6TOzrk12CTSVTa2ioU6I94DE7FJypDZ3FRo+znLyNwj23EYNLaWBbWRiwFiKiXIKAVvIFbmbaD9VgkXQvH/D1RoQq/RCqsA78zLt8aOfY53tc/djszt9o/+DJ0Awp+CZvJ8Wbz2yXSWxoxCUFSyJ8lPRwu0tg0lqZlLVjjuZDPd1V+/5TVAomb9jRw/EsWP7oXQeUNPeYWlu8Bp2NASswVZh5l9oFY1dvFs+KjwvImTeyDrkT0bGHGcpnoernw3HtKpMlmD793647ggx+GJEdPHC6hqN56wnYDpLIlEPcjauxaKAAx3CRpnybwz+Iu0dVGE5rXKPJUGpXR3OerM+xpyagB6SrFaxhNwJAzcCYLa4fb9bpnEdLXt/iI9+Yfnq8nWH2CBqVlfuB
Spamdiagnosticmetadata: NSPM
Spamdiagnosticoutput: 1:99
---
On the attribute def, assign the privileges READ and UPDATE. Then folder and group owners (ADMINS or ATTR_READ and ATTR_ADMIN) should be able to assign them.
This is a different attribute def, but you get the idea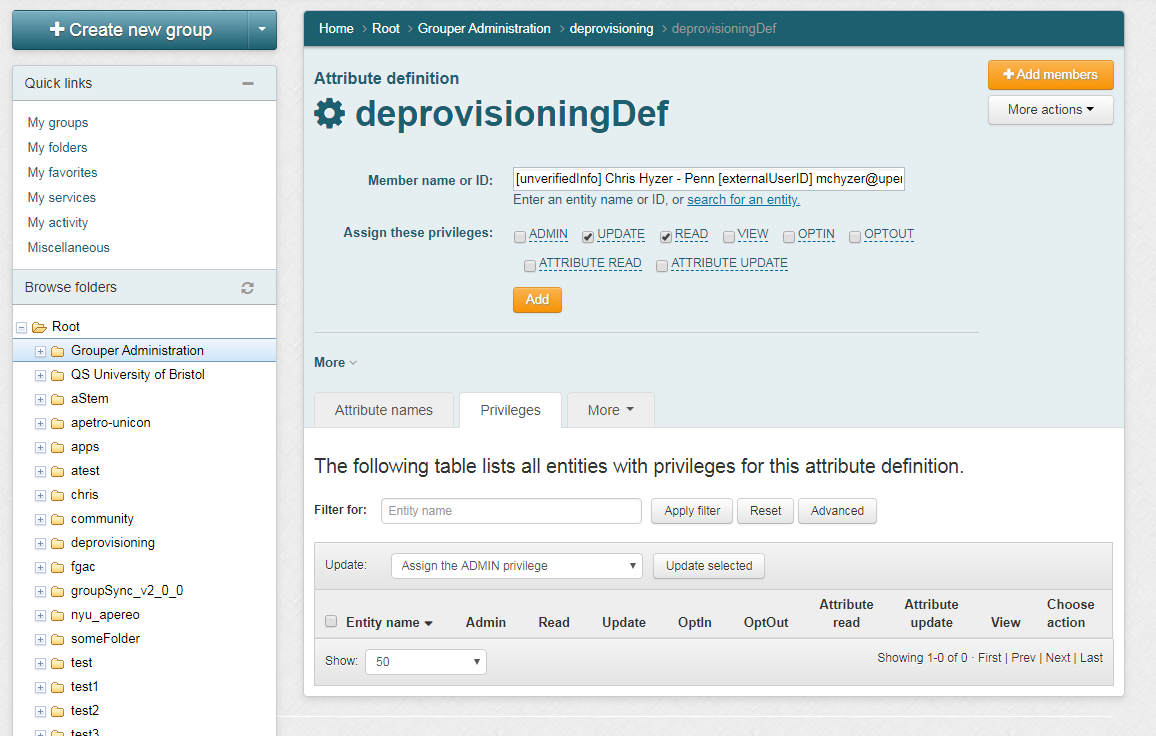 From: <> On Behalf Of Coleman, Erik C
Sent: Thursday, November 01, 2018 5:17 PM
To:
Subject: [grouper-users] Delegating access to attributes within 2.4 UI
So my next snag with using the attribute editor is that non-SysAdmin people can't seem to even see the etc:pspng:provision_to attribute in order to properly set it. Bert B-L suggested that it is perhaps an object inheritance issue. There is a group "provision_to_users" so I added them to the folder privileges of etc:pspng with "ATTRIB_READ and ATTRIB_UPDATE" and added my delegates to that group. However, when they browse, they can see the folder, but no attributes inside. How do you modify the privileges on an attribute object within the 2.4 UI? There doesn't appear to be an option.
Thanks!
-Erik
---
---
Archive powered by MHonArc 2.6.19.