grouper-users - [grouper-users] Grouper 2.4 UI problem with Setting Attributes
Subject: Grouper Users - Open Discussion List
List archive
From: "Coleman, Erik C" <>
To: "" <>
Subject: [grouper-users] Grouper 2.4 UI problem with Setting Attributes
Date: Mon, 29 Oct 2018 23:09:00 +0000
Accept-language: en-US
Ironport-phdr: 9a23:j6pQixTRyw9hpbrlb81+m4cMyNpsv+yvbD5Q0YIujvd0So/mwa6yYhCN2/xhgRfzUJnB7Loc0qyK6/+mATRIyK3CmUhKSIZLWR4BhJdetC0bK+nBN3fGKuX3ZTcxBsVIWQwt1Xi6NU9IBJS2PAWK8TW94jEIBxrwKxd+KPjrFY7OlcS30P2594HObwlSizexfbF/IA+qoQnNq8IbnZZsJqEtxxXTv3BGYf5WxWRmJVKSmxbz+MK994N9/ipTpvws6ddOXb31cKokQ7NYCi8mM30u683wqRbDVwqP6WACXWgQjxFFHhLK7BD+Xpf2ryv6qu9w0zSUMMHqUbw5Xymp4qF2QxHqlSgHLSY0/mHJhMJtkKJVrhGvpx1jzIHbe4yVLuZycr/HcN8GWWZNQMBcXDFBDIOmaIsPCvIMMehGoon6o1sBsx6+ChOqBO/31zRGiWX23aw50+88DwzK0hErEtUQv3vIsNr4L6YSUeSxzKnJyzXDaPJW2Szn5IfWbx8hvOiBULRtesTfzkkvEhnKjlSWqYH9PjOV0uANs2md7+pnVOKvkHQrpB9srTiy3sssi43JhoYUylDC8iV5wZ01KceiREFlfNGkDZ1dvDyZOYtuWs4uXX1ktSkgxrACt5O3ZjYGxI4myhLHdvCKd5aE7gj+WOuTOzt1imxpdKiiixqs6USgxPPzW8qo3FtPqydJjMTDuW4R2xHW5MWLVuFy80Kj1DuL1A3e5eRJLl4pmqXGNZIsxKM7mIAJvkTZBCD2nV37jK+IeUUg/eil8+XnYrHipp+dMY90jQD+Mr80lsOhHOs4LxACX2md+euiyL3u5VP1TKlFg/EslqTUvorWKdoBqqO4GwNV15ws6xe7DzeoytQYmnwHIUpbdx2bk4fkIFDOIPT8Dfe+hVSslzZrx+vcMrL/H5rNM2DPkK39crZl905c1A0zwMhQ55JODbEBPerzVVHrtNDBEx85KBK7w/z8CNhm0oMeWHmPArOCMK/Mq1OI5+QvI/WSa48PvjbyNeQl6+D0gXAnhFAdYPrh4ZxCIn+iGel+Ll/cfGHhmMwpEGEWsxA4QfCwzlCOTHQbM3moWL8k6yt+FZmrF5zrR4axjaaH0TvhWJBaezYVJEqLFCKiXIKAVvIFbmbaD9VgkXQvH/D1RoQq/RCqsA78zLt8aOfY53tL5trYyNFp6riLxlkJ/jtuApHF3g==
Spamdiagnosticmetadata: NSPM
Spamdiagnosticoutput: 1:99
---
I'm running into a snag with the new Grouper 2.4 (running from container tier/grouper:2.4.0-a2-u0-w0-p0). I'm wanting to demonstrate how group owners can selectively choose to have their groups or folders sync to our AD via our PSPNG config. I select a group or folder and choose "More Actions" -> "Attribute Assignments" and assign an attribute, it seems to work, but then I get this strange error "ErrorType; LoadXML Description: Incorrect XML":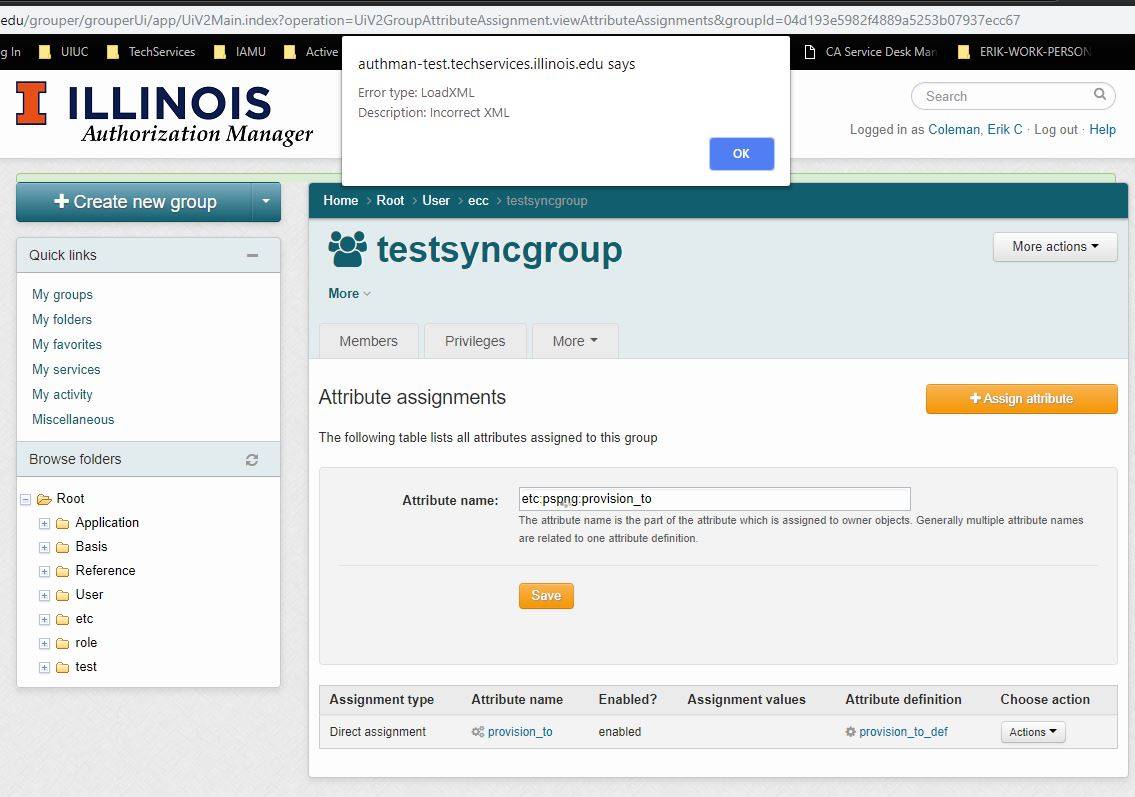 Then if I click OK, then attempt to choose the action to assign a value to that attribute, I get a remarkably blank screen: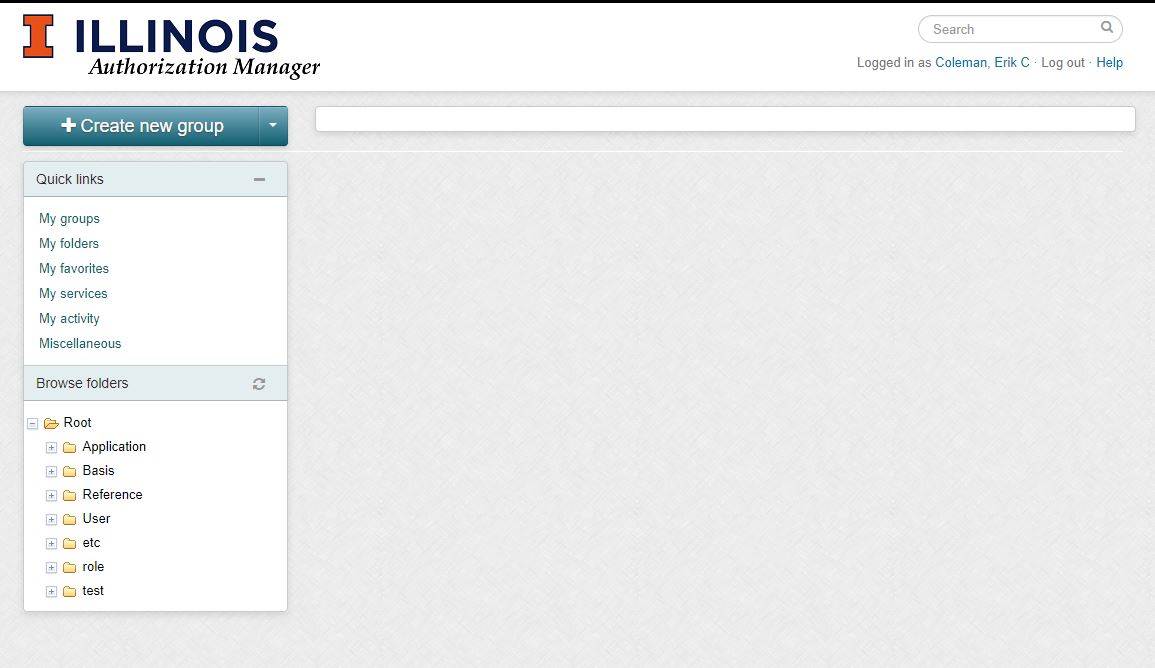 The only interesting log entries I am seeing is this:
grouper-api;grouper_error.log;as-aws-test-dev2;aws-poc;2018-10-29 18:05:26,238: [ajp-nio-8009-exec-3] ERROR CsrfGuardLogger.log(47) - - potential cross-site request forgery (CSRF) attack thwarted (user:ecc, ip:xxx.xxx.xxx.xxx, method:POST, uri:/grouper/grouperUi/app/UiV2GroupAttributeAssignment.assignmentMenuAddValue, error:request token does not match session token)
grouper-api;grouper_error.log;as-aws-test-dev2;aws-poc;2018-10-29 18:05:26,475: [ajp-nio-8009-exec-4] ERROR CsrfGuardLogger.log(47) - - Referer domain https://authman-test.techservices.illinois.edu/grouper/grouperUi/app/UiV2Main.index?operation=UiV2GroupAttributeAssignment.assignmentMenuAddValue&attributeAssignId=635adbb3af3b4c2fa54a8eafca18ee13&csrfExtraParam=xyz does not match request domain: http://authman-test.techservices.illinois.edu/grouper/grouperExternal/public/OwaspJavaScriptServlet
Is this a UI bug? Or possibly a sign I've got something corrupted somewhere? It's still pretty stock test environment otherwise.
Thanks,
Erik Coleman
University of Illinois at Urbana-Champaign
---
[grouper-users] Grouper 2.4 UI problem with Setting Attributes, Coleman, Erik C, 10/29/2018
---
Archive powered by MHonArc 2.6.19.