grouper-users - RE: [grouper-users] Grouper Institution Profile Questions
Subject: Grouper Users - Open Discussion List
List archive
From: "Hyzer, Chris" <>
To: John Gasper <>
Cc: "" <>
Subject: RE: [grouper-users] Grouper Institution Profile Questions
Date: Wed, 28 Feb 2018 04:00:05 +0000
Accept-language: en-US
Authentication-results: spf=none (sender IP is ) ;
Ironport-phdr: 9a23:qI0xVBPU86SV3ddRuI8l6mtUPXoX/o7sNwtQ0KIMzox0I/n7rarrMEGX3/hxlliBBdydt6ofzbKO+4nbGkU4qa6bt34DdJEeHzQksu4x2zIaPcieFEfgJ+TrZSFpVO5LVVti4m3peRMNQJW2aFLduGC94iAPERvjKwV1Ov71GonPhMiryuy+4ZLebxlGiTanfb9+MAi9oBnMuMURnYZsMLs6xAHTontPdeRWxGdoKkyWkh3h+Mq+/4Nt/jpJtf45+MFOTav1f6IjTbxFFzsmKHw65NfqtRbYUwSC4GYXX3gMnRpJBwjF6wz6Xov0vyDnuOdxxDWWMMvrRr0vRz+s87lkRwPpiCcfNj427mfXitBrjKlGpB6tvgFzz5LIbI2QMvd1Y6HTcs4ARWdZXshfSTFPAp+yYYUMAeoOP+dYoJXyqFYVtxuyGRWgCfnzxjNUhHL727Ax3eQ7EQHB2QwtB9wCvnbUrdT0KqgSS/i5x7TWwDXDdfNW2Cz95IbVeR0mpPGDQbJwcMrQyEYxDQPIlVSQqZf5MD+Py+QNq3aU7+xmVe61lWEothxxryGpy8wxiYfJnpoYxk7e+ill3Yo4IMC0RFNmbdOhHptduD2WO5dzT84gXW5ltyc3x7gDtJKlYCQG1owrywPRZvCbaYSF5g/vWPyPLTtlgH9pYq+zihSz/ES4xO3zSMq53EpPoydAj9XDq3MA2hPW58eZUPRx4kKs1DWR2AzN7uxJJFs7mKrVK5E9xLM7i4Advl7ZHiDsnUX7lK+WeVsg+uiv8+npeqnrqJiAO4Nqkw3zL6IgltKmDeQ/KQcBQXKX+eOh1L3/5kL5R6hKjvsrnaXDqJDaP8MbprKnDABJzoYj6hG/DzG83NQfgHkHMFZFeBWAj4jqIV3BPPf4DfKnj1Stljdk2ezGM6X/DprXMnTPjbLscatg50JBzQczw99S645IBrwEIv/8RED8ud3dAxI8LQC43/jrBM141owEWGKPBqGZMLnVsV+N/u8vJvWDZI8VuTf8Nfcl/eXjjX4imVABZ6WpwIMXZ26+HvRgOUmWf2fjgsoZHWcQogU+VPDqiEGFUTNLaHayRaU85iwjCI24F4fPX52tgKef0yehBZ1bfWRGClGXEXf0bIWIRe0AaCOUIs99jDMET76hRJE91R2wrgP11adoLveHshEf4LDk1N49yOTIjRwovWh2AM2Gy2yXZ3xyn2gPQXkw0bwp8mJnzVLWm4hpkfFCUZR45+lISU1yYZvXz/1oBsraWxnKOMqRRVCgBNiqHGdiHZoK39YSbhMlSJ2ZhRfZ0n/vWudNmg==
Spamdiagnosticmetadata: NSPM
Spamdiagnosticoutput: 1:99
---
>
> • What usage scenarios are you using Grouper to solve?
Centralized authorization and people lists. We are decentralized so it's difficult to exactly know. We have a lot of apps driven by Grouper. And we are starting to at least sync authorizations into grouper for apps who don't drive from grouper.
>
> • How does Grouper fit into your environment?
3 UI nodes, 5 WS nodes, LDAP, SAML, change log messaging (grouper built in and AWS), SQL feeds. We also have a WS node off-site with a readonly synced database (oracle dataguard)
> Do you also run another authorization management app?
No
> Did Grouper displace an existing centralized authorization management application?
No, we had authorization in a framework that stored things in those applications. So applications didn't need to code their own groups/memberships, but it wasn't centralized.
>
> • What integrations have been integrated with Grouper?
We had LDAP provisioning before LDAPPC (or ldappcng, or psp), and haven't switched to psp. We do use PSP to sync to AD (not a lot of groups). We use the duo connector, Atlassian, and others.
>
> • What customizations to Grouper have you applied? Custom UI?
I think a couple schools made a simple UI on the WS, but Im not sure. Centrally we don't have one.
>
> • What EFT is used to maintain? What's the EFT's skillset to run/maintain
> Grouper?
Java programmer: 20%, data analyst for loader queries, 5%, small slice of sysadmin/dba.
>
> • How long do you retain your audit/point in time tables? What is your
> current database size?
So far indefinitely, though we will soon be deleting point in time of deleted objects 5 years or older, and deleting audits with not user associated (e.g. loader) 5 years or older. Database tables are 20 gigs. Not sure about indexes or other things.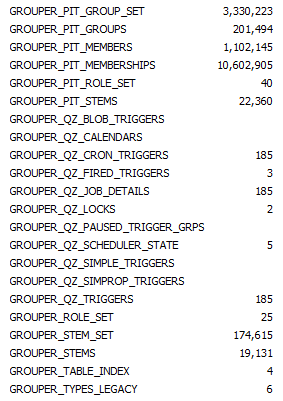 >
> Feel free to reply directly to me or back to the list (probably preferable so
> others can benefit, but understandable if you choose not to).
>
> Thanks very much,
> John
>
> --
> John Gasper
> IAM Consultant
> Unicon, Inc.
> PGP/GPG Key: 0xbafee3ef
>
>
---
---
Archive powered by MHonArc 2.6.19.