grouper-users - [grouper-users] NewUI (2.3.0 latests patch)
Subject: Grouper Users - Open Discussion List
List archive
From: Francis Bouchard-Boulianne <>
To: "" <>
Subject: [grouper-users] NewUI (2.3.0 latests patch)
Date: Thu, 18 Jan 2018 14:11:56 +0000
Accept-language: fr-CA, en-CA, en-US
Ironport-phdr: 9a23:M8rk5BMJpfBBrvzp+OUl6mtUPXoX/o7sNwtQ0KIMzox0I//5rarrMEGX3/hxlliBBdydt6odzbKO+4nbGkU4qa6bt34DdJEeHzQksu4x2zIaPcieFEfgJ+TrZSFpVO5LVVti4m3peRMNQJW2aFLduGC94iAPERvjKwV1Ov71GonPhMiryuy+4ZLebxlViDanfb9+MAi9oBnMuMURnYZsMLs6xAHTontPdeRWxGdoKkyWkh3h+Mq+/4Nt/jpJtf45+MFOTav1f6IjTbxFFzsmKHw65NfqtRbYUwSC4GYXX3gMnRpJBwjF6wz6Xov0vyDnuOdxxDWWMMvrRr0yRD+s7bpkSAXwhSkHKTA37X3XhMJzgqJavB2uqAdyw5TIbI2JLvdyYr/Rcc4cSGFcXshRTStBAoakYoUPFeoOJ+BYoJX8p1sVsBCzGA6sBP7zxT9InHD2x7A13/08HAHBwQwgG9MOv27SrNXzKqgZTOe4wqnSzTrZafNZxTb96JPSfh08pvGMQK5/ccrLxkk1CgzJl0idqYv4PzOR1+QCqW6b7+x+Wu+0hWEptgFxrSa1xsg3kInJgYUVylPa+ilj3Ik6P8S1RUhmatCnCJtdrzyWOoVoTs84XW1kpTo2xqcYtZO1fSUG0okrywPHZ/CafYWE/AjvWPiMLTtknn5oeqiziwus/UWuzOD3S9O630xQriVfl9nBrnAN2ALX6siAUvZ95UKh2SqX1wDS9O1IO100lbHbK5E/2L4/jYATsUPEHi/1hkr6lrOZeV889uip7eTofKnmq4eBO4J6lA3yKLoiltGjDegiLAQDUWmW9f6h2LH+5UH5Ra9FjvwykqnXqpDaIsEbq7a5DQ9PyIkj7QqwDza90NgCgHQHK09Fdw6Hj4fzIVHBPen0AOq4g1SxlDdrxurJPrvnAprTNXXDjazhfbZj5E5G0wUz19df55VXCr4fOv78RlX+uMTCDhAlKwy03/rnCNJl24MRQ2KPBbKZMLvMvl+S/+4vPvKMa5EPuDbmMPUl4//ujWQlmV8GY6Wlx5oXaHakHvt4OUWZZ2TjgssfHWsQoAUxUfHq2xW+VmsZaGy1Qrox/HQmE4+8Fq/CQJygmrqMwH39E5FLLCgSBUqLDG/lbcCZQPoWcwqTJNNsiDoJSeLnRoM8g0KArgj/npR9J+zf+zZQn5X+39h8/eGWvxYv8T19CcKQmzWjVWhylWITARUxwat/qFZxj32EzKx5ivpeGPRu3PNESA0gMpnfwqpxAoahCUr6Yt6VRQP+EZ2dCjYrQ4dpzg==
---
Hi,
I'm working on the missing french translations and I noticed that the new implementation of the attributeDef/Name is working only partially :
See my screenshot :
1 : left menu working properly if you click on an attributeDef/Name
2 : link not working
Any JIRA associated ?
I could ask my dev to provide a patch if needed.
Thanks
<![if !vml]> <![endif]>

___________________________________________
Francis Bouchard B. M. Sc.
Analyste – Analyse et assurance qualité - division Systèmes d'information.
Service des technologies de l'information
Université de Sherbrooke
Tél. : 819 821-8000, poste 63465
Courriel :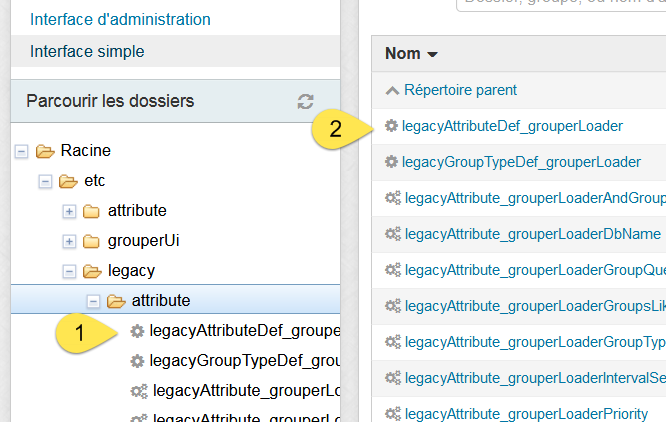 ---
[grouper-users] NewUI (2.3.0 latests patch), Francis Bouchard-Boulianne, 01/18/2018
---
Archive powered by MHonArc 2.6.19.