grouper-users - [grouper-users] RE: Grouper CAS -Shib authentication
Subject: Grouper Users - Open Discussion List
List archive
From: "Hyzer, Chris" <>
To: "Singley, Norman" <>, " Mailing List" <>
Subject: [grouper-users] RE: Grouper CAS -Shib authentication
Date: Wed, 2 Nov 2016 19:02:04 +0000
Accept-language: en-US
Authentication-results: spf=none (sender IP is ) ;
Ironport-phdr: 9a23:vzL2xhwxEofOdCnXCy+O+j09IxM/srCxBDY+r6Qd0OwWIJqq85mqBkHD//Il1AaPBtSBraIfwLOP7OjJYi8p2d65qncMcZhBBVcuqP49uEgeOvODElDxN/XwbiY3T4xoXV5h+GynYwAOQJ6tL2PbrnD61zMOABK3bVMzfbWvXN6JxJ3uiKibwN76W01wnj2zYLd/fl2djD76kY0ou7ZkMbs70RDTo3FFKKx8zGJsIk+PzV6nvp/jtLYqySlbuuog+shcSu26Ov1gFf0LRAghZioO5cvksRTSCUOp4WEZW2Nc2k5uBBLA5Re8ZZb3vS/3p8J4wy7cIMjqC704RGLmp+1kUhj1kCodciMi/XvMos12kK9Bph+9/Vpyz5OcRYiUMPt4cev5fMgGDyIVUdxWSjRMGMahdIYVFMIAO/pVtY/wuwFIoBejU1qCHuTqn3Vol237x+ly+OQ7EBqMlFglFNIfonnOhNTuP+EPSe2zyu/FwSiVPKAe4iv09IWdKkNpmvqLR78lNJOJkUQ=
Spamdiagnosticmetadata: NSPM
Spamdiagnosticoutput: 1:99
---
I assume you added the cas jars to the tomcat library dir?
Does someone know if you need security constraints in web.xml for cas?
Maybe you could ask this on a CAS mailing list if someone here cannot help?
Thanks
Chris
From: [mailto:] On Behalf Of Singley, Norman
Sent: Wednesday, November 02, 2016 2:37 PM
To:
Subject: [grouper-users] Grouper CAS -Shib authentication
Hi folks.
I'm working on this CAS authentication piece for grouper 2.3 again, and I am still stuck. Here's the current status.
I removed the security constraints from web.xml files:
/grouper/grouper.ws-2.3.0/grouper-ws/webapp/WEB-INF/web.xml
/grouper/grouper.ui-2.3.0/dist/grouper/WEB-INF/web.xml
Now when I hit the url, I don't seem to get redirected to CAS/Shib. I don't get the tomcat 403 error, but the application errors: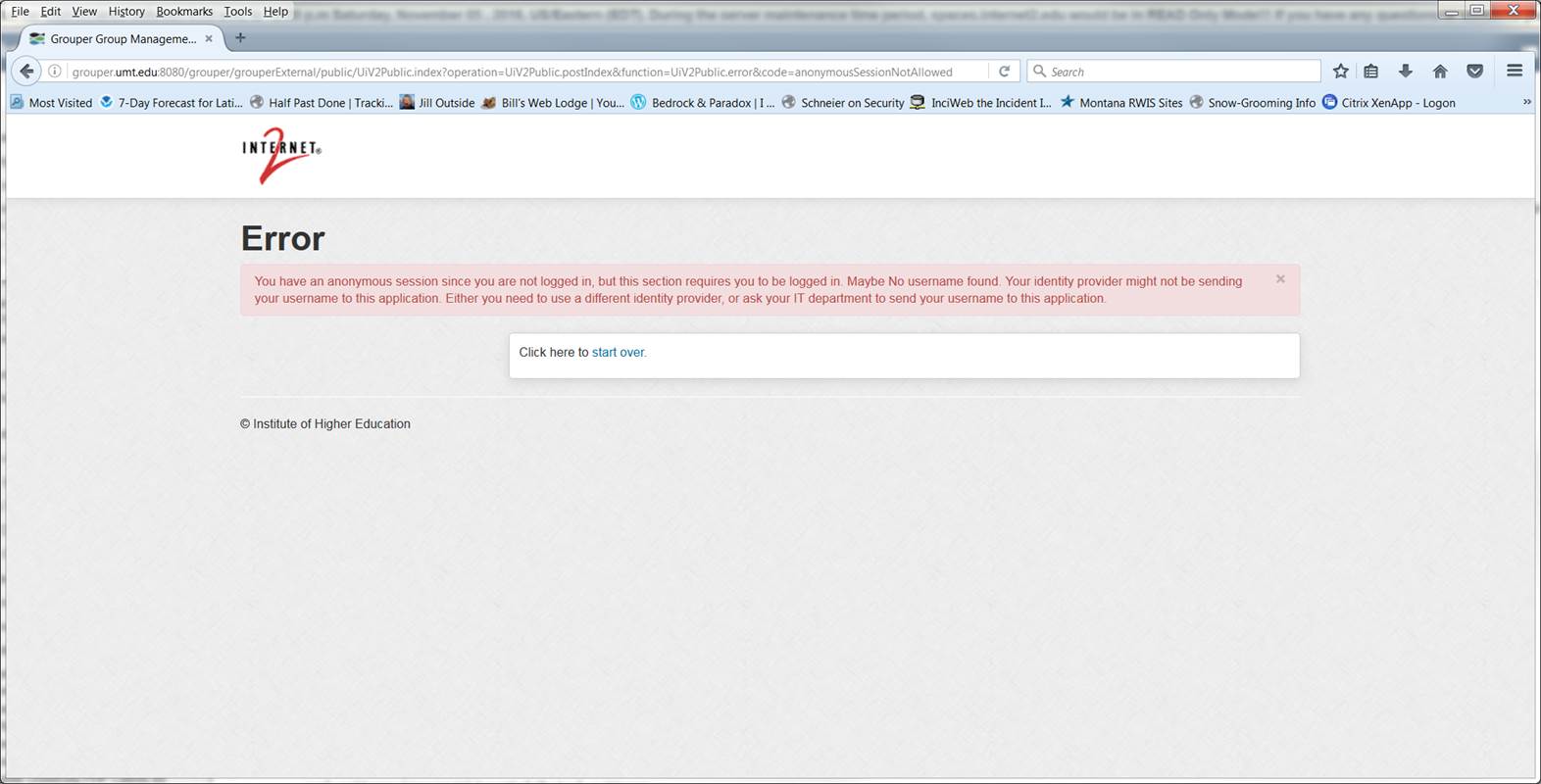 Anything else I can provide to help troubleshoot? Again, thanks for all the help.
Norman Singley
Directory Services
406 243 6799
---
---
Archive powered by MHonArc 2.6.19.