grouper-users - RE: [grouper-users] grouper 2.2.2
Subject: Grouper Users - Open Discussion List
List archive
From: Chris Hyzer <>
To: Yoann Delattre <>
Cc: "" <>
Subject: RE: [grouper-users] grouper 2.2.2
Date: Tue, 1 Sep 2015 02:00:10 +0000
Accept-language: en-US
---
Hmmm, those are a little too involved for this timeframe. We will consider them for a 2.2.2 patch or 2.3. Let me know. I couldn't find an existing jira so I created one. If there already was one, let me know
https://bugs.internet2.edu/jira/browse/GRP-1189
Thanks,
Chris
From: Yoann Delattre [mailto:]
Sent: Monday, August 31, 2015 5:30 AM
To: Chris Hyzer
Cc:
Subject: Re: [grouper-users] grouper 2.2.2
Hey,

if this enhancement could be included in the 2.2.2 release, it would be great :) :)



Hi,

is it possible to show the disabled date for a member directly in the group's member list ?
Something like that :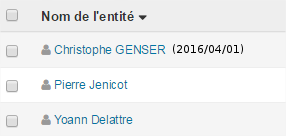 Another thing. When i set an enabled date for a member, he disappears from the group. It's a little disturbing. Is there a way to show a member, in the group's member list, even if there is an enabled date ?

Thanks,
Yoann.

Thanks,
Yoann.
Yoann Delattre

✆

03 20 95 69 10

✉

Équipe SIAD (Systèmes d'Information et Aide à la Décision)
DSI de l'académie de Lille (Direction des Systèmes d'Information)
110 avenue Gaston Berger - 59000 Lille
Le 30/08/2015 20:51, Chris Hyzer a écrit :
Hey,

We would like to release Grouper 2.2.2 in the next few weeks which will include all the fixes and patches in 2.2.1 and the 2.2 branch. If there is something which is not yet fixed in the 2.2 branch that you think should be in 2.2.2 please let me know asap.

Thanks,

Chris
---
RE: [grouper-users] grouper 2.2.2, Chris Hyzer, 09/01/2015
---
Archive powered by MHonArc 2.6.16.