grouper-dev - [grouper-dev] RE: Disapearing members ?!?!?!
Subject: Grouper Developers Forum
List archive
From: Chris Hyzer <>
To: Gagné Sébastien <>
Cc: "" <>
Subject: [grouper-dev] RE: Disapearing members ?!?!?!
Date: Thu, 14 Feb 2013 21:36:05 +0000
Accept-language: en-US
Authentication-results: sfpop-ironport07.merit.edu; dkim=neutral (message not signed) header.i=none
---
Try running the bad membership utility:
https://spaces.internet2.edu/display/Grouper/Bad+Membership+Finder+Utility
Also, try the PIT and groupSet fixer (from GSH):
new edu.internet2.middleware.grouper.misc.SyncPITTables().syncAllPITTables()
new edu.internet2.middleware.grouper.misc.AddMissingGroupSets().addAllMissingGroupSets();
Thanks,
Chris
From: Gagné Sébastien [mailto:]
Sent: Thursday, February 14, 2013 4:21 PM
To: Chris Hyzer
Cc:
Subject: Disapearing members ?!?!?!
Hi Chris (or any other that can help),
A little panic here : we did a release in production and for some reason, some groups have lost their memberships. I'm not saying it was removed, but it vanished in thin air : no audit logged, nothing in the changelog. I checked the grouper_memberships table in the database and the records disappeared.
The structure we have/had :
all-admins
|-dept1-admins
|-personA
|-personB
|- dept2-admins
|-personC
All the memberships between "all-admins and deptX-admins" and "deptX-admins and personY" have vanished, but the groups are still there.
Even weirder, if I re-add personA to dept1-admin, Grouper WILL SHOW personA as an indirect member of All-admins, while showing NO DIRECT MEMEBRS! (see attached screenshot)
This problem only occurred in Production, the identical test env has no problem…
We're currently lost about what might have caused the problem, and would really appreciate some guidance to find the problem… Thanks
(PS the solution will be to manually re-add everything since it's not much work, but we don't want to lose any more data…)
No Direct members :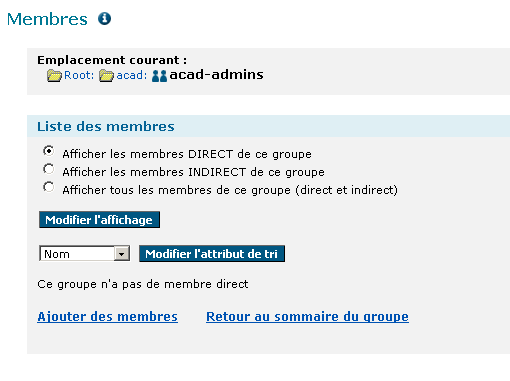 But has indirect members ?????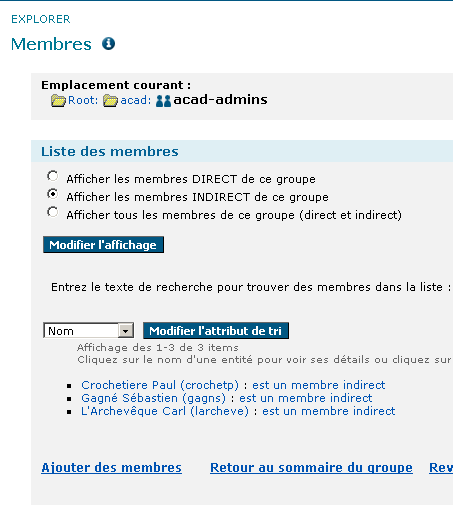 Sébastien Gagné, | Analyste en informatique
514-343-6111 x33844 | Université de Montréal,
| Pavillon Roger-Gaudry, local X-100-11
---
---
Archive powered by MHonArc 2.6.16.