grouper-dev - RE: [grouper-dev] UI membership list bug
Subject: Grouper Developers Forum
List archive
From: Chris Hyzer <>
To: Gagné Sébastien <>, "" <>
Subject: RE: [grouper-dev] UI membership list bug
Date: Tue, 9 Oct 2012 18:59:40 +0000
Accept-language: en-US
---
I reproduced it, and made a jira about this:
https://bugs.internet2.edu/jira/browse/GRP-853
Thanks,
Chris
From: [mailto:] On Behalf Of Gagné Sébastien
Sent: Tuesday, October 09, 2012 2:53 PM
To:
Subject: [grouper-dev] UI membership list bug
Hi,
I found a bug using the membership list in the admin UI. Here is the use case :
<![if !supportLists]>1. <![endif]>Main group has members from only one source (gsa)
<![if !supportLists]>2. <![endif]>The main group's group member has members from multiple sources (gsa and ldap)
<![if !supportLists]>3. <![endif]>Showing INDIRECT members for the main groups gives me the option of "Which source" option
<![if !supportLists]>4. <![endif]>Selecting LDAP source, I see only ldap members
<![if !supportLists]>5. <![endif]>Going back to DIRECT members, I get a message that group has no direct members
I believe that the previously selected source still applies, but the option isn't there since all direct members are only from a single source. If I go back to INDIRECT, select all source (or GSA) and go back to DIRECT, the group is back.
Thanks
Screenshot of above steps.
1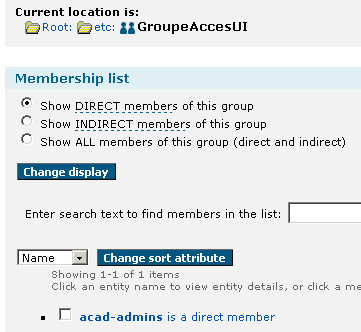 2 and 3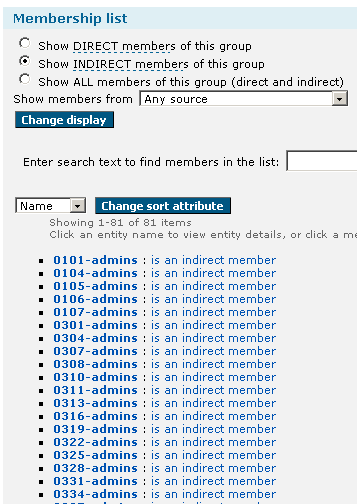 4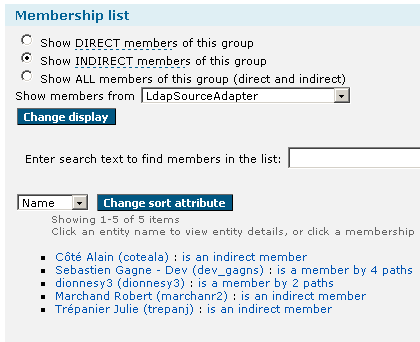 5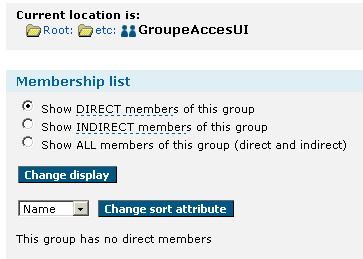 Sébastien Gagné, | Analyste en informatique
514-343-6111 x33844 | Université de Montréal,
| Pavillon Roger-Gaudry, local X-100-11
---
---
Archive powered by MHonArc 2.6.16.