comanage-users - [comanage-users] COmanage Newsletter #15 - December 2022
Subject: COmanage Users List
List archive
From: Laura Paglione <>
To: , COmanage Dev <>,
Subject: [comanage-users] COmanage Newsletter #15 - December 2022
Date: Thu, 29 Dec 2022 13:55:46 -0500
---

NEWSLETTER
ISSUE #15 | December 27, 2022
Goodbye 2022
What a year it has been. We have been taking a moment to reflect on the COmanage Project journey this year. And what a journey it has been! We thank the community for their continued inspiration, collaboration, and support throughout the year. We couldn't have accomplished so many great things without you!
We'll take an Open Office Hours break in early January, but we will be back at our monthly sessions in February. Happy New Year!
No Open Office Hours This Month
We will be taking a break from office hours in early January but will resume on Friday, February 3, at 12:00 PM (America/New York). Please use the link below to add the event to your calendar:
FEBRUARY: IN YOUR TIMEZONE & link for your calendar
COmanage 2022 Year in Review
More happened during 2022 than we can fit into a newsletter, but here we share some highlights.
New Version Releases
You can find all the release details on the COmanage Roadmap page.
Registry v4.0.2 (Feb)
Bug fixes and corrections on Registry v4.0.0 were released in Oct 2021.

Match v1.0.0 (Jul)
The initial release of COmanage Match.

Registry v4.1.0 RC1 (Dec)
A precursor to the full release of v4.1.0, we shared the first Release Candidate of the update in December. This version will have many new features, including Person Vetting, Enrollment Flow Integration with ID Match, and an ApiSource update to accept multiple roles. You can see a full list of features in the presentation given at Open Office Hours LIVE! last month.
Planning & Execution
We laid a lot of groundwork during 2022 that we expect to leverage next year and beyond.
Updates to COmanage Project Containers
Led by the Project Container lead, Scott Koranda, we have our first vision, roadmap, and formal planning for how COmanage will manage and evolve containerized packaging. In addition to the planning, this year we migrated container repositories for both Registry and Match to be resident with the code base for each. Execution of this plan will be ongoing throughout 2023. See Container Planning Roadmap for all the details.

Registry 5.0.0 (PE)
Registry v5+ is a significant update to the code because of a CAKE Framework Migration. We have taken the opportunity to consider how Registry is used today and update it so that the codebase is better positioned for what we plan in the future. Our development cadence is tied to several small "milestone releases." At the moment, we are on milestone release 7. The Minimal Viable Product release is expected between milestone releases 12 and 13. Both versions 4 and 5 will be supported until version 5 reaches feature equivalency with 4. You can find details about v5 plans in the presentation from Open Office Hours LIVE! last month.
Refreshed Documentation
We started this newsletter both to help communicate new news about COmanage tools, as well as to help highlight information that may have been tucked away in our documentation for some time. We have been building several resources to help you find your way around the documentation, particularly for the new or occasional user.
Technical Manuals - detailed documentation on the features and 
User Guides - the technical manuals with a bit of context thrown in.
Community Pages - explore ways to engage with the rest of the community and us. The COmanage Community
Media resources (new this month). We have updated the format for our media pages, making them easier to use. See the media page for details about
Presentations,

Videos, and

Other Resources
Training, Presentations, & Events
We value the many times we had opportunities to have voice-to-voice conversations with current and prospective users of COmanage tools. We loved hearing your use cases, questions, suggestions, and stories in many settings:
AND, lots and lots of people at Internet2's Technology Exchange (Dec)
… and a quick look to the future…
At the last Open Office Hours, the COmanage Project UI/UX lead, Arlen Johnson, provided a preview of a few features of the new Registry interface that is expected with COmanage Registry v5.x.x. We invite you to watch the 3 min video and start getting excited about what the project has in store for 2023.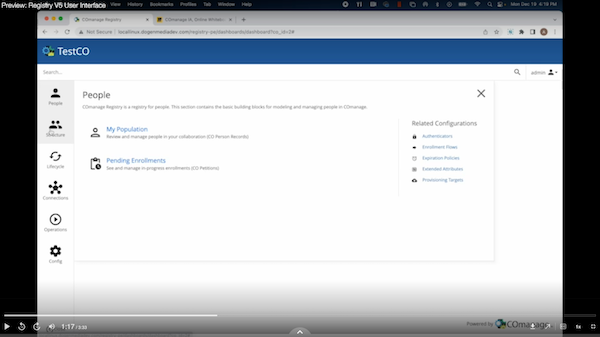 That's it for this month's newsletter. Keep an eye out for our next one scheduled for late January. We look forward to seeing you in the new year.
---
About The COmanage Project
COmanage is an Open Source Project focused on streamlining digital lifecycle management for your populations. It consists of two tools: Registry and Match. 
COmanage Registry is an identity registry with flexible enrollment and lifecycle management capabilities that helps you meet your identity management objectives using standardized tools and approaches. It can be used as a central person registry, a guest management system, or a collaboration hub for scholarly collaborations.
COmanage Match performs identity de-duplication to help minimize the creation of duplicate accounts for the same individual. It provides a heuristic-based system for matching identity records across multiple authoritative systems of record. Match can be used with Registry or as a standalone product complementary to your other tools.
Learn more about the project and its supporters at https://incommon.org/software/comanage/.
---
Q: Why did I get this awesome email? 
A: Because you have subscribed to one of the COmanage mailing lists!
See the COmanage Email Lists wiki page for more details.
---
[comanage-users] COmanage Newsletter #15 - December 2022, Laura Paglione, 12/29/2022
---
Archive powered by MHonArc 2.6.24.